With the Galaxy S23, Samsung can't match Apple's prices
The Galaxy S23, Galaxy S23+ and Galaxy S23 Ultra are the most expensive smartphones Samsung has ever sold, excluding foldables. Prices are approaching those of the iPhone 14 this year. But can Samsung really match Apple's prices in the quietest way? NO!
This year, the main variants of the new Samsung flagships all start at 256 GB, except for the Galaxy S23, which retains the 128 GB option. But without exception, the prices of all of them have increased significantly compared to last year's models.
But unlike Apple and its dominant position, Samsung does not own the entire Android market. The manufacturer is playing a dangerous game with high prices, even as its catalog begins to stagnate. Well, what is wrong with him to mock his users like this?
Will Samsung smartphones soon be as expensive as Apple iPhones?
The base versions of the Galaxy S23 (128 GB) and Galaxy S23+ (256 GB) cost 100 euros more than the equivalent versions of the Galaxy S22 and Galaxy S22+. The basic version of the Galaxy S23 Ultra (256 GB) costs 60 euros more than last year's Galaxy S22 Ultra.
| | | | |
| --- | --- | --- | --- |
| | Galaxy S22/Galaxy S23 | Galaxy S22+/Galaxy S23+ | Galaxy S22 Ultra / Galaxy S23 Ultra |
| Price at the start | €859/€959 (128GB versions) | €1109/€1219 (256GB versions) | 1359€/ 1419 (256 GB versions) |
| Price difference | +100€ | +110€ | +60€ |
So we are not talking about a few euros there, the price increase that Samsung started with is significant. However, Samsung doesn't take as much abuse as Apple, at least so far.
If we look at the price difference between the iPhone 13 and iPhone 14 models, the increases in Apple are at least twice as large. For example, the iPhone 14 Pro Max is 220 euros more expensive than last year's iPhone 13 Pro Max. And that, unlike Samsung, Apple is still offering 128GB versions of all its iPhones this year.
| | | | | |
| --- | --- | --- | --- | --- |
| | iPhone 13 mini / iPhone 14 | iPhone 13/iPhone 14 Plus | iPhone 13 Pro/ iPhone 14 Pro | iPhone 13 Pro Max / iPhone 14 Pro Max |
| Price at the start | €809/€1019 (128GB versions) | €909/€1169 (128GB versions) | 1159€/ 1329 (128GB versions) | 1259€/ 1479 (128GB versions) |
| Price difference | +210€ | +260€ | +170€ | +220 |
Unlike iPhones, Samsung smartphones lose a lot of value
That's why Samsung still has a ways to go before it can match Apple's stratospheric pricing policy. But I am of the opinion that the South Korean manufacturer's prices are above ground. Especially since Samsung smartphones depreciate more over time than iPhones.
According to a study by SellCell, a popular smartphone shopping site, the Samsung Galaxy S22 has lost three times more value than the iPhone 13 since its launch.
It's no coincidence that Samsung offers better discounts on iPhone trade-ins than on one of its own smartphones through its trade-in program.
Taking the aforementioned study, we see that the Samsung Galaxy S22 lost the most value after one or two months at 51.1%, compared to 16.4% for the iPhone 13.
So, of course, buying a smartphone is not an investment. A smartphone is not an asset. But paying iPhone 14 1000 balls instead of Galaxy S22 is still less frustrating, because the latter will be worth only after two months.
Some might say this is a good thing. The most patient buyers will be able to buy cheaper Samsung smartphones. But when it comes to trying to sell your phone again a year later to finance the purchase of a new model, you'll definitely lose out.
However, the manufacturer's recent efforts in terms of software updates will surely allow its smartphones to remain attractive enough for a longer period of time. Only the future will tell us.
Does Samsung really have the chops to be the Apple of Android?
In my Galaxy S23 Ultra application, I regretted that Samsung tried too hard to match Apple. The fact that the manufacturer applied the same design to the three flagship models speaks volumes.
Christened by Samsung as the One Galaxy Design, this strategy echoes many of Apple's. The iPhone is visually recognizable at first sight. All the latest models have more or less the same faces.
But while Apple has managed to make its iPhones inseparable from its entire ecosystem of products and services, Samsung has yet to do so.
When we think of Android or Android smartphone, we surely think of Samsung, but not only. I'm sure that for many ordinary users, necessarily ignorant of technology, Samsung is not exactly synonymous with Android. Xiaomi is certainly represented in this regard.
What I mean by this is that Samsung does not have the same dominant position in its market as Apple. There are many alternatives and many competitors.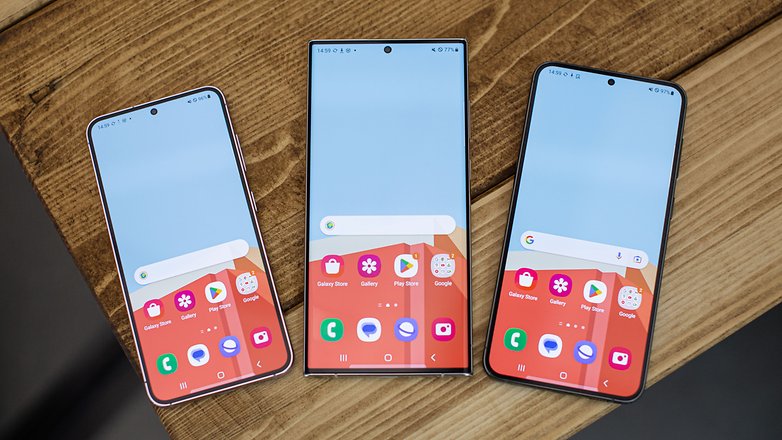 Samsung smartphones are always more premium, but really for whom?
So I already see some people coming and telling me, "Stop annoying Antoine, if you're not happy, just buy a cheaper Galaxy A." Well, I agree, Samsung at least has the merit of offering a fairly rich, reasonably priced catalog. This is not the case with Apple.
But then I come back to the same observation of the sentiment post where I was angry about the prices of the iPhone 14s when they were released: Who are the Galaxy S23s for?
Samsung, which published its financial results for the last quarter of 2022, clearly demonstrates its desire to consolidate its market share in the premium segment.
The manufacturer is firmly convinced that consumers want to buy more and more expensive smartphones. It even expects Galaxy S23 Ultra sales to account for more than half of the entire flagship lineup this year.
But where will he find all these customers? Does Samsung know that in France, according to the Observatory of Inequalities, a quarter of full-time workers earn less than €1,580 a month net? Only 10% net earners of €4,000 or more per month?
Who is Samsung really targeting by constantly raising the prices of mass produced and marketed smartphones, therefore targeting the masses (or at least a certain mass)? How does it plan to be the Apple of Android if its smartphones are out of reach for most Android users?
No, really, I'm asking the question because I don't have an answer. Come on, with that, I have to do a test that no one will read about a €1,419 smartphone that no one will buy.