ASUS ROG Harp Ace Mouse review
If there is an essential and very intimate accessory for gamers, it is indeed a mouse. Size, weight, shape, all features should be considered. Just in time for CES 2023, Asus invites us to discover the Rolls-Royce of gaming mice with some great features.
Asus ROG Harp Ace gaming mouse review and features
The Asus ROG Harpe Ace is a simple-looking gaming mouse with clearly insane potential. Asus knows how to treat gamers, especially since the mouse is an essential element for anyone who spends a lot of time gaming, especially in competitive experiences.
Buy the Asus ROG Harp Ace gaming mouse
| | |
| --- | --- |
| Maximum sensitivity is supported | 36000 DPI |
| Sensor | Optical |
| Number of buttons | 7 buttons |
| Back light | yes (wheel only) |
| It starts | bilateral |
| Enter | wired, Bluetooth, dongle |
| Autonomy | 90/98 hours |
| Weight | 54 grams |
The Asus ROG Harpe Ace gaming mouse stands out above all for its weight, even if its shape is still classic. Asus is targeting a specific audience, competitive gamers looking for a very light object to handle, great for FPS or MOBA gamers.
Design and comfort: flawless
After getting my hands on the Asus ROG Harp Ace for two weeks, it's a bit different from other gaming mice. In addition to being wireless and therefore not cluttering up your gaming space, the model's 54 grams allows for more mobility than usual. After fitting well into Overwatch 2, I quickly realized the great potential of this model.
The shape of the body is rounded with a slight hole with two clicks to accommodate the pulp of your fingers. Since then, the wheel doesn't offer you any special options The model is supplied with a notchit is very practical for video games, for example, to change weapons in a game, but offers less convenience for browsing the Internet.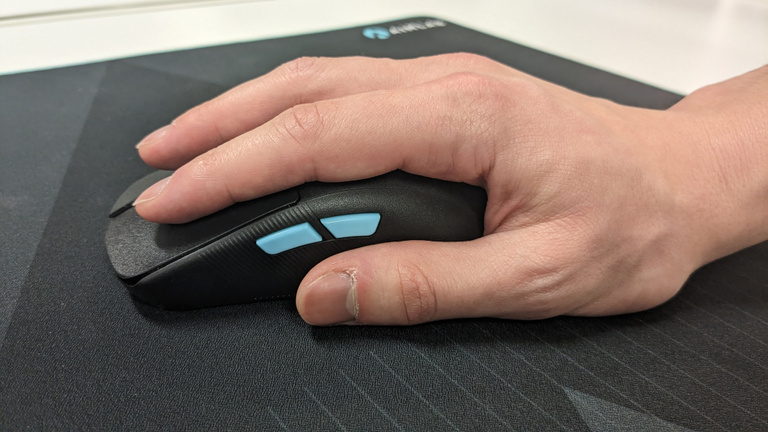 Two side buttons are available for browsing the web or programming in-game actions. At the bottom there is a button to change the DPI of the mouse, as well as a button to connect with a computer via Bluetooth.
In form, this ROG Harp Ace knows how to do it, as its slightly grainy rounded shell and grooved sides are perfectly capable of keeping the hand in place even during sudden movements. There are four pads underneath for gliding on most surfaces, but you can use a good mouse pad once in a while.
This special edition, in collaboration with Aimlab, gave me the benefit of a fairly simple, but rather large, software mousepad. If you are not familiar with Aimlab, it is an aiming software commonly used by professional gamers.
Whether you put your fingers all over the shell of the mouse or place your hand in the claw grip, the Asus ROG Harpe Ace stays put because the clicks are very long and will never block the pulp of the mouse. your finger
In terms of weight and shape, Asus is on target, even if these criteria are quite subjective. Based on my experience as an FPS gamer, I still find it nicer to have the light weight to handle sudden movements, but the offering is very good and remains a good bet for Asus.
A simple mouse, but not without potential
Simplicity doesn't mean bad, and Asus shows us that. In addition to its very light weight, this model has very low latency through the ROG AimPoint optical sensor. When playing at 240Hz, I experienced no lag or stuttering that marred my gaming experience.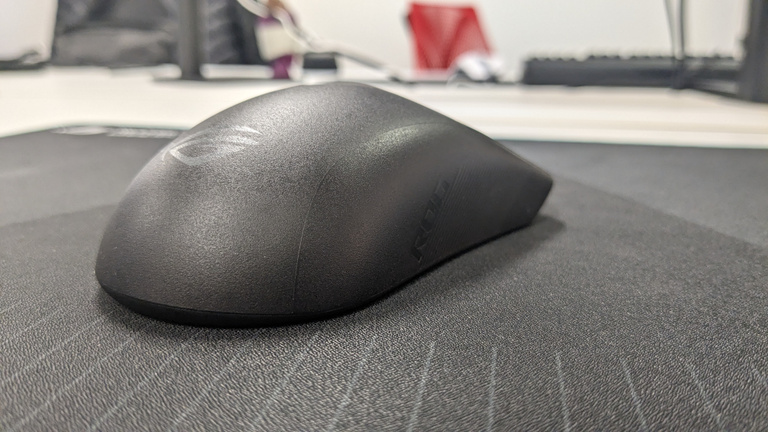 Obviously, not everything is done without compromises, and therefore Asus offers no memory for saving profiles and, as you mentioned, no frills or backlighting (except for the wheel). For Asus ROG Harp Ace. The brand's aim is above all to offer an ultra-lightweight mouse perfectly suited to the needs of competitive gamers.
Battery life is excellent, as you'll be able to get around 90 hours of use before you need to charge it with the USB-C cable.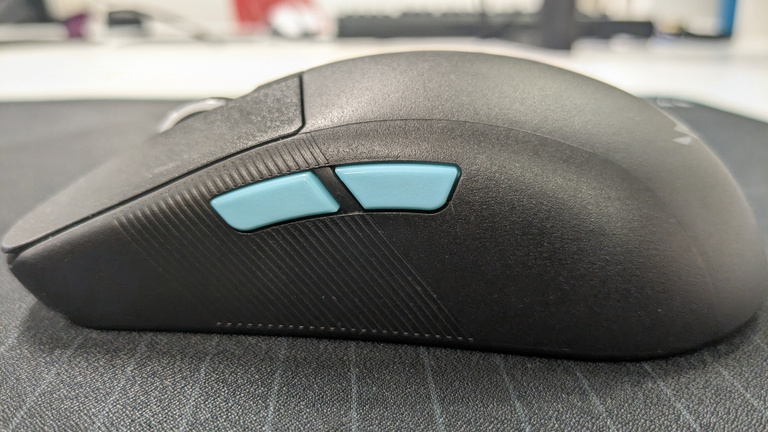 Armory Crate driver software remains your best friend (or worst enemy) for customizing your experience by directly viewing your sensitivity, calibrating your sensor, and even changing your tire's backlight.
At the same time, we must highlight the efforts of Asus, which offers a sober and elegant design that takes us out of the clichés of gamers with sometimes unusual and even unpleasant designs. ROG Harp Ace says goodbye to all of these for a simple gaming experience with all the know-how of Asus.
In addition to the Asus ROG Harpe Ace mouse, you can also find the Asus ROG Azoth keyboard review here:
I tested the small Asus ROG mechanical gaming keyboard, it's perfect, but…
Buy the Asus ROG Harp Ace gaming mouse
The result

Strong points
Perfect weight
A classic but very effective shape
Clicks perfectly adapted to different playing methods (claw, palm)
The Asus ROG Harpe Ace is a mouse that borrows qualities from many older Asus models to create a near-perfect experience. Its rounded shape with hollow clicks, but ESPECIALLY its weight of only 54 grams, make it a main argument for players. Regardless of how you hold the mouse, the Asus ROG Harp Ace fits in very well despite its very simple look.
This page contains links to some of the products BM has selected for you. Each purchase you make by clicking on one of these links will not cost you, but eCommerce will pay us a commission. The prices shown in the article are the prices offered by the trading sites at the time of publication of the article and these prices are subject to change at the sole discretion of the trading site without notice to BM.
More details.