This 55-inch Panasonic 4K OLED TV sees its price cut in half during the sale
If you're looking for a full OLED TV, sales are sometimes the perfect opportunity to find good deals. Currently, the Panasonic TX-55JZ1000E TV is down to 949 euros, compared to 1999 euros when it was released.
Besides LG, other manufacturers offer very good quality OLED TVs. Panasonic has some good credentials, like the TX-55JZ1000E. The latter offers a very complete spec sheet: it ticks all the boxes between an HDMI 2.1 connection perfect for gaming on next-generation consoles, a 55-inch OLED panel with up to 4K resolution, and support for multiple video standards. With a price approaching 2000 euros when removed, today it costs no more than 950 euros thanks to sales.
Pros of this Panasonic TV
Beautiful picture quality with a 4K compatible OLED panel
HDR10, HDR10+ and Dolby Vision IQ and Dolby Atmos compatible
The presence of HDMI 2.1 ports
And its compatibility with Google and Alexa assistants
The Panasonic TX-55JZ1000E TV with a starting price of 1,999 euros has since experienced significant price reductions, as it is today: it sells for 949 euros on the Ubaldi website.
---
If the offer mentioned in this article is no longer available, take a look below to find other promotions for the Panasonic TX-55JZ1000E. The table is updated automatically.
Where to buy

Panasonic TX-55JZ1000E at the best price?
Excellent picture quality
The Panasonic TX-55JZ1000E TV is a well made and elegant product. We find a 55-inch slab with slim bezels for full immersion. Its 55-inch panel is a pleasure to look at, especially with an OLED panel that offers infinite contrasts, very deep blacks and very good color calibration.
The display quality has been enhanced with 4K UHD resolution (3,840 x 2,160 pixels), which will provide more accurate details and more realistic images. In addition, this TV is compatible with HLG, HDR10, HDR10+ and Dolby Vision video standards, which provide sharper details in dark places and brighter ones for a more dynamic display. Everything is accompanied by Dolby Atmos sound, but it is more appropriate to add an audio system for better sound production.
A very good game companion, especially for the latest consoles
To provide gamers with a new generation console, Panasonic offers two HDMI 2.1 inputs that support VRR, ALLM and FreeSync Premium technologies to best match the latest generation of consoles. These technologies allow for reduced latency, screen tearing prevention and fluid gameplay. Thanks to the update, the TV can display your games with a refresh rate of 120 FPS up to 4K resolution without disturbing.
Finally, the manufacturer chooses a home operating system: My Home Screen (6.0). Intuitive interface, but quite limited in terms of applications compared to what is offered by the competition. Of course, there are apps like Netflix, Prime Video, MyCanal or Disney+. It even integrates Chromecast functionality so you can stream content from your smartphone or tablet without forgetting Google Assistant. You'll be able to control your connected objects or launch an app with your voice. If you have a connected speaker from the Echo range, you can also use Amazon Alexa to control the TV.
9 /10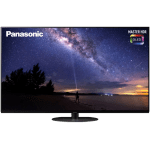 If you want to know more, our review of the Panasonic TX-48JZ1000E also applies to the Panasonic TX-55JZ1000E.
Winter sales: the best deals selected by Frandroid's editorial staff
The Winter Sales officially started in France on Wednesday 11th January 2023 at 8am and will end at midnight on Tuesday 7th February. At the moment, several merchants have drawn their best offers. Here are the best deals from our live sales.
Our picks by product category
Our picks by merchants
Our picks by brands
To make sure you don't miss out on any good plan for this event, here are some reflexes you should take now so you don't miss any of the suggestions we recommend:
Follow us on our twitter account @FrandroidPromos dedicated only to good deals (don't forget to activate the call to receive real-time notifications)
Download our Frandroid app (available on iOS and Android) to enable notifications from the "Good Deals" category and get new 2023 Winter Sale items in real-time.
Subscribe to our Good Deals newsletter (multiple emails per day, 1-click unsubscribe, distribution to third parties) to make sure you get the deals firsthand:
---
Do you use Google News (French news)? You can watch your favorite media. Watch it Frandroid (and Numerama) on Google News.