The price of the MacBook Air 2022 M2 is going down thanks to the winter sale
This isn't the first drop we've seen for the MacBook Air 2022 powered by the Apple M2 chip. But thanks to a 10% discount on Amazon, it is offered for 1349 euros instead of 1499 euros when it goes on sale.
Two years after the release of the MacBook Air 2020, Apple is updating its best-seller with not only a more powerful chip, but also a new design. 2022 MacBook Air not unanimous due to the very high price at the time of its release, and still the MacBook Air 2020 offered in the Apple catalog remains a very good laptop computer. Today, the 2022 model is more recommended thanks to the 150 euro discount above all.
What is MacBook Air 2022?
Redesigned design and well-calibrated screen
The power of the M2 chip
It is a very durable and silent machine
Starting at €1,499, the MacBook Air 2022 M2 is now more affordable: it's listed on Amazon for €1,349.
---
If the offer mentioned in this article is no longer available, take a look below to find other promotions for the Apple MacBook Air 2022 M2. The table is updated automatically.
Where to buy

Apple MacBook Air 2022 M2 at the best price?
The 2022 MacBook Air is getting a makeover
Despite no real aesthetic changes since 2008, Apple is completely revamping the look of the MacBook Air 2022. It inherits the design of the latest 14-inch and 16-inch MacBook Pros and gets a more modern shape. We find reduced edges around the screen, notches, a new speaker system hidden in the hinge… Also notice the disappearance of the "MacBook Air" inscription found in previous versions under the "display".
The 2022 model offers exemplary finishes that ensure the success of the brand's portable devices. A very good keyboard with backlit keys as well as a large comfortable trackpad complete everything. In terms of display, Apple offers a 13.6-inch "Liquid Retina" display (i.e. IPS LCD) for a resolution of 2560 x 1664 pixels, rather than OLED or mini-Led. It will be very pleasant to look at both in low light and in slightly bright ambient lighting. However, avoid glare from the sun as the screen is quite bright.
The car in his belly
In the guts of the laptop we find Apple's latest M2 chip. It's a silent machine, ideal for consulting content and powerful enough to work effortlessly. Even so, we could see a drop in performance when it was hot during our test, but it remains perfectly fluid even in this context.
To keep up, Apple doesn't skimp on the autonomy part. MacBook Air M2 will accompany you for hours without ever losing its fluidity. The autonomy is far superior to most laptops. It charges via the popular MagSafe port, which makes a great comeback. The latter has a magnetic property and is easily detached.
To learn more, we invite you to read our full review of the MacBook Air 2022 M2.
7 /10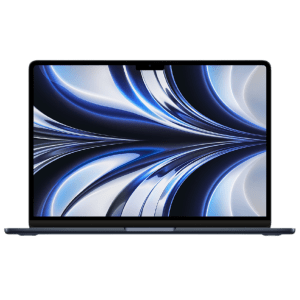 Winter sales: the best deals selected by Frandroid's editorial staff
The Winter Sales officially started in France on Wednesday 11th January 2023 at 8am and will end at midnight on Tuesday 7th February. At the moment, several merchants have drawn their best offers. Here are the best deals from our live sales.
Our picks by product category
Our picks by merchants
To make sure you don't miss out on any good plans for this event, here are some reflexes you should take now so you don't miss any of the suggestions we recommend:
Follow us on our twitter account @FrandroidPromos dedicated only to good deals (don't forget to activate the call to receive real-time notifications)
Download our Frandroid app (available on iOS and Android) to enable notifications from the "Good Deals" category and get new 2023 Winter Sale items in real-time.
Subscribe to our Good Deals newsletter (multiple emails per day, 1-click unsubscribe, distribution to third parties) to make sure you get the deals firsthand:
---
We invite you to follow us Download our Android and iOS app. You can read our articles, files and watch our latest YouTube videos.