HP All-in-One 27 and 24: powerful and elegant all-in-one computers
Every year, computer manufacturers update a large part of their catalog to constantly meet user requirements. Often, they use events like the Consumer Electronics Show in Las Vegas at the beginning of the year to introduce various innovations that will liven up the rest of the year. At CES 2023, the American manufacturer HP introduced many new products, both laptops and desktops, which are expected in the coming months. Among these, we discovered the brand new HP All-in-One 27 and 24. As their name suggests, these are all-in-one desktop computers designed for optimal user comfort. In total, we are entitled to four different models to offer users maximum choice.
Design with elegance
In general, All-in-One PCs sport a fairly thick silhouette, especially for all the components inside.
The new HP All-in-One 27 and 24 naturally take the basic form of devices of this type. So it consists of a screen with very thin edges hanging on a foot and a base. These last two elements also act as the central compartment housing to house all the conventional components of the computer. You just need to connect a mouse and keyboard to have a purely functional device.
However, this base is not as thick as can be found on most of the competition. Indeed, the device is really very discreet to look like a simple classic monitor. The display stand also remains very compact with its cylindrical shape, just enough to support everything. The manufacturer additionally offers an adjustable length leg to adjust the height of the screen. This greatly contributes to optimizing the ergonomics of the device.
HP also wants to be a little more responsible in its choice of materials. The brand uses metal and recycled plastic in many elements of the device.
Comfortable screens
Of course, the screen remains the main element of the HP All-in-One 27 and 24. This is also the main difference between the two models, at least in terms of size. As the name suggests, the HP All-in-One 27 has a 27-inch screen. The HP All-in-One 24 has a diagonal of 23.8 inches for its part. The first is intended for users looking for great comfort, and the second for those who want a more compact device.
apart from this dimension, the rest of the features remain the same for both. Thus, we are entitled to an IPS LCD panel that displays a resolution of 1920 x 1080 pixels for a Full HD, i.e. 16:9 aspect ratio. The manufacturer also chooses whether you want a touch screen or not. In touch mode, the brightness can reach 300 nits, while for the other option it is limited to 250 nits.
Choice of AMD or Intel
With such a compact design, you obviously shouldn't expect monsters of power. However, this does not prevent the HP All-in-One 27 and 24 from offering the latest generation of components. In addition, HP offers a choice between configuring under Intel or AMD.
The Intel version basically offers a processor 13th generation Raptor lake, mainly models with low energy consumption. So there is a choice between Core i7-1355U, Core i5-1335U, Core i3-1315U, Core i3-N300. You can also choose models with N100 and N200 processors. Depending on the model, the processor is accompanied by a dedicated Intel Iris Xe Graphics or Intel Ultra HD Graphics GPU.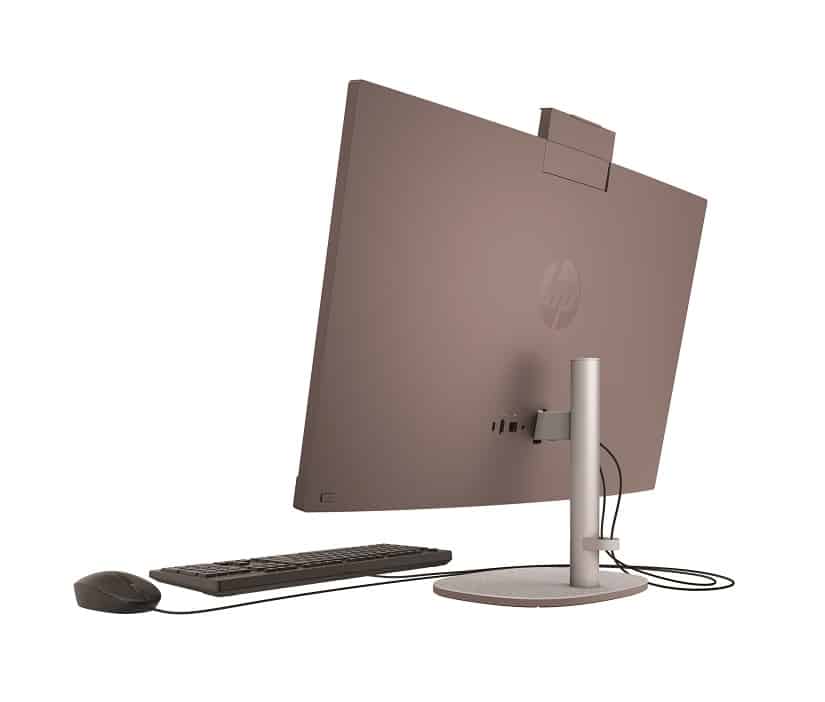 The second option includes the processor AMD Ryzen 7000 also from the U series. It is available in Ryzen 7 7730U, Ryzen 5 7520U or Ryzen 3 7320U. It is also possible to choose a model with Athlon Gold 7220U or Athlon Silver 7120U. It also comes with AMD Radeon Graphics integrated graphics processor.
On the memory side, the chip is supported by 4 to 32 GB of DDR4 RAM. AMD versions also offer configurations with 4-16 GB of more efficient LPDDR5 RAM. For storage, you can take an M.2 PCIe NVMe SSD with a capacity of 128 GB to 1 TB. Everything is equipped with Windows 11 Home.
Good connection
You can count on rich enough connectivity to connect the HP All-in-One 27 and 24 with other peripherals. It includes 2 USB-A Superspeed ports, a USB-C Superspeed port and a USB-A 2.0 port. It also has an HDMI 1.4 output, an RJ45 port for network connectivity, and a combined headphone-headphone jack on the mini-jack. The last port allows you to supply the device with 65 W or 90 W.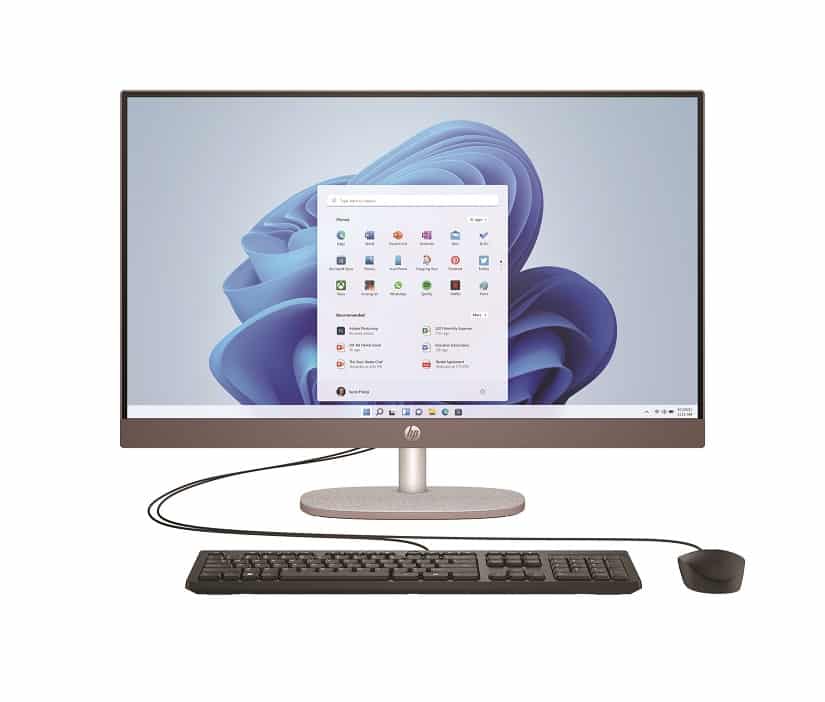 For wireless connectivity, we have the right to use Wi-Fi 6 and Bluetooth 5.3. Thanks to all this, the device can easily connect to almost any type of device and use an excellent network connection.
There is also a modular webcam above the screen. This HP True Vision camera is available in Full HD 1080p or HD 720p with infrared. It also incorporates dual noise-canceling microphones. In addition, the device also houses 2 W stereo speakers to complete the audio-video part.
HP All-in-One 27 and 24 prices and availability
The HP All-in-One 27 and HP All-in-One 24 all-in-one desktops are expected sometime in spring 2023. At the moment, the brand has not mentioned the prices, but at the same time notes that these tariffs will be determined closer. launch date.