Conserving biodiversity to protect our future
Vietnam will join the Global Ocean Alliance, which advocates for the protection of 30% of the world's oceans by 2030. He wants to contribute to international efforts to save marine life.
Vân Long in Ninh Binh Province is the most important wetland in northern Vietnam classified as a Nature Reserve.
Photo: VNA/CVN
"Participating in the Global Ocean Alliance (GOA) would be a new step for Vietnam to share experiences and strengthen partnerships with the international community for biodiversity conservation, allowing it to raise its position in this regard."The representative of the Department of Nature Protection and Biodiversity of the Ministry of Ecology and Natural Resources emphasized.
According to the department, the GOA's goal is to protect at least 30% of the planet by 2030 (30×30 target), protect for ambitious action with international partners to establish protected areas and other effective area-based conservation measures (OECM).
The 30×30 goal should become a new direction, a call to world leaders to protect the marine environment.
By becoming a member of the GOA and participating in the implementation of the 30×30 initiative, Vietnam has included relevant targets in its National Biodiversity Strategy, including a 3-5% increase in biodiversity by 2030. area of ​​marine protected areas and coastal zones.
Resources have been mobilized
Vietnam has taken serious measures to fulfill its international biodiversity obligations.
Photo: VNA/CVN
"Vietnam will continue to actively participate in joint efforts to protect global biodiversity"assured Vo Tuan Nha, Deputy Minister of Natural Resources and Environment.
During the high-level session on "Towards an Ecological Civilization: Building a Collective Future for All Life on Earth" 15e At the recent meeting of the Conference of the Parties to the Convention on Biological Diversity (COP15) in Montreal, Canada, Vietnamese Deputy Minister Vo Tuan Nhan said: "The country is always ready to mobilize all resources to effectively implement its National Biodiversity Strategy". He urged member countries to take similar measures to build a prosperous and healthy planet.
According to him, the erosion of biodiversity is happening at an alarming rate. Achieving the Global Sustainable Development Goals and restoring biodiversity is a challenge for all Member States. The adoption and effective implementation of the post-2020 Global Biodiversity Framework will further enable this goal to be achieved.
Ratifying the Convention on Biodiversity in 1994, Vietnam has since made many efforts to eliminate threats to it, including improving the legal framework, actively cooperating, creating favorable conditions for the development of biodiversity conservation… In particular, the Global Biodiversity Framework, the Vietnamese government for years developing the National Biodiversity Strategy during the
As an active member of this Convention, Vietnam recommends the rapid establishment of aid mechanisms, especially financial, resource mobilization, creation and development of technical capabilities, scientific cooperation and technology transfer, Vo Tuan Nhan stressed.
He also emphasized the importance of intensifying cooperation among stakeholders to achieve the ambitious goals of the Global Biodiversity Framework, creating opportunities for each person, each organization and each country to optimize their roles and responsibilities to achieve Vision 2050 (Living in Harmony with Nature). .
COP15 should be an opportunity for the international community to find solutions to slow the erosion of biodiversity and restore the balance between man and nature.
His efforts were appreciated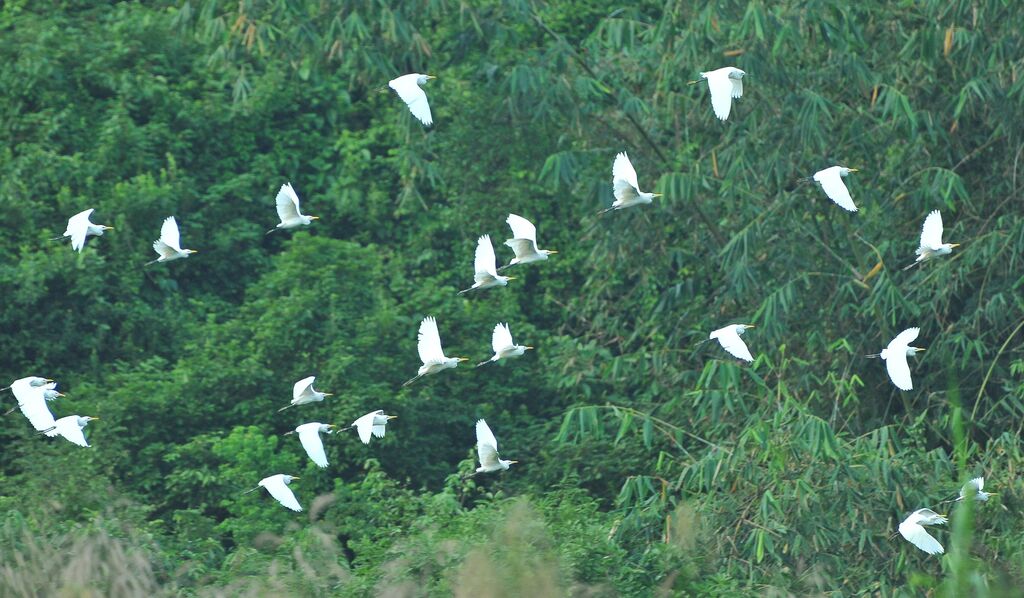 In Thung Nham Ornithological Park, Ninh Binh Province (North).
Photo: VNA/CVN
According to Marco Lambertini, director general of the World Wildlife Fund (WWF), Vietnam is a leading country in biodiversity conservation in the Asia-Pacific region.
Marco Lambertini, speaking at another event on the protection of Vietnam's natural heritage organized within the framework of COP15, noted that the country has taken drastic measures to fulfill its international biodiversity obligations.
WWF will continue to work closely with Vietnam's Ministry of Natural Resources and Environment in implementing national biodiversity targets.
Deputy Minister Vo Tuan Nhan briefed the participants on Vietnam's outstanding biodiversity values ​​as well as its contributions to achieving global biodiversity goals.
He emphasized the importance of expanding partnerships, including public-private partnerships, to achieve the National Biodiversity Strategy by 2030 and to achieve the 2050 vision.
Vietnam's Minister of Natural Resources and Environment, Trân Hông Ha, confirmed Vietnam's strong support and commitment to responsibly implement the initiatives and international commitments in a pre-recorded speech sent to COP15 on the Convention on Biodiversity.
In January 2022, Prime Minister Pham Minh Chinh approved the National Biodiversity Strategy to 2030, Vision 2050. It covers the territory of protected ecosystems to 9% of the land area of ​​the country, sea and coastal areas, 3-5% of the sea surface. During this period, forest cover should remain at 42-43% and at least 20% of the area of ​​degraded ecosystems will be restored.
Huong Linh/CVN synthesis
Marine Biodiversity: Vietnam Top 16 in the World
Vietnam ranks 16th among the world's 25 richest marine biodiversity countries with more than 11,000 species discovered in the country. There are about 6,000 benthic species, 2,038 fish, 225 marine shrimps, 15 sea snakes, 12 marine mammals, five sea turtles, 43 seabirds, 653 algae, 657 zooplankton, 94 mangrove plants, and about 14,400 species of sea grass. These species live in more than 20 types of ecosystems, have high biological productivity and determine the total primary productivity of the entire ocean.