The OnePlus 10 Pro goes on sale just before the announcement of the next OnePlus 11
A few days before the announcement of the OnePlus 11, the price of the OnePlus 10 Pro softens during the sale: it drops to 629 euros against 919 euros at launch, which makes it more recommended.
In a few days, OnePlus' next flagship will be announced, this time with a Pro model for non-subscribers. Despite the imminent arrival of its successor, the OnePlus 10 Pro remains a great device. It ticks almost every box with its sleek design, great display, photo benefits and very solid performance. And if you don't want to pay full price, this high-end smartphone is about 300 euros off its price.
What are the good points of the OnePlus 10 Pro?
Very nice OLED display at QHD+ and 120 Hz
Powerful chip: Snapdragon 8 Gen 1
Great photo versatility
Not to mention the efficient 80W fast charging
For the 2nd discount, Darty is selling the OnePlus 10 Pro for €629, down from €919 at launch. It's the same price on Amazon.
---
If the offer mentioned in this article is no longer available, take a look below to find other promotions for the OnePlus 10 Pro. The table is updated automatically.
Where to buy

OnePlus 10 Pro at the best price?
Top of the range at an affordable price
The OnePlus 10 Pro has a well-crafted and pleasant design in the hand. Its 6.7-inch AMOLED screen and QHD+ resolution offer excellent image quality with faithful color rendering. Also add an adaptive refresh rate ranging from 1 Hz to 120 Hz to ensure smooth navigation. However, we regret the lack of IP68 certification at this price point.
Inside, the OnePlus 10 Pro is powered by a powerful Snapdragon 8 Gen 1 chip, which is paired with 8GB of RAM. This chip provides comfortable power for everyday applications and handles 3D applications or graphics-maximized games without slowing down. FYI, the only downside is that the phone tends to heat up quickly. Nevertheless, the user experience is very smooth with the Oxygen OS interface based on Android 13 through the update.
A fast-charging phone that delivers great photos
To go on, the 10 Pro can last a day at most thanks to its 5000 mAh battery. Autonomy that can vary according to your use, but compatibility with fast charging saves the day. There is 80W fast charging to prevent the battery from running out: the smartphone charges from 2 to 73% in just 20 minutes. It still takes a little over 10 minutes to reach 100%. As for wireless charging, it is up to 50W.
As for the photo part, there is a photo module with three sensors developed in collaboration with Hasselblad: a 48-megapixel wide-angle sensor, a 50-megapixel ultra-wide-angle sensor and an 8-megapixel x3.3 optical zoom. This composition works well, the smartphone can capture very detailed shots day and night. However, we regret that the ultra-wide angle is a bit behind compared to other important shooting modes. The 150 degree mode and the fisheye are funny…but nothing else.
If you want to know more, here's our full test on the OnePlus 10 Pro.
8 /10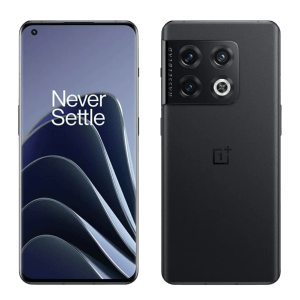 Winter sales: the best deals selected by Frandroid's editorial staff
The Winter Sales officially started in France on Wednesday 11th January 2023 at 8am and will end at midnight on Tuesday 7th February. At the moment, several merchants have drawn their best offers. Here are the best deals from our live sales.
Our picks by product category
Our picks by merchants
To make sure you don't miss out on any great deals from this event, there are a few reflexes you should take right now so you don't miss out on any of our recommended deals:
Follow us on our twitter account @FrandroidPromos dedicated only to good deals (don't forget to activate the call to receive real-time notifications)
Download our Frandroid app (available on iOS and Android) to enable notifications from the "Good Deals" category and get new 2023 Winter Sale items in real-time.
Subscribe to our Good Deals newsletter (multiple emails per day, 1-click unsubscribe, distribution to third parties) to make sure you get the deals firsthand:
---
Want to join a community of enthusiasts? Welcome to our Discord, a place of mutual help and passion around technology.