Apple's MacBook Air M1 meets its best price ever for sale
Far from being obsolete, the MacBook Air 2020 remains the laptop of choice at Apple. It houses the M1 chip, which demonstrates its power and efficiency. And if the increase in its price was a brake, today it is back at a more interesting price thanks to a promo code.
Even after the arrival of the M2 chip or more recently the M2 Pro and M2 Max chips, the MacBook Air 2020 is still highly recommended with the M1 chip. This laptop still has a bright future ahead of it and delivers very good performance on a daily basis. If you want to choose a new MacBook with an excellent price/performance ratio, this is our recommendation.
What we like about the MacBook Air 2020
Its flawless finishes
Its ever powerful M1 chip
His strong autonomy
Launched at €1,129, then listed on the official website for €1,199, the MacBook Air 2020 M1 is currently on sale for €899 on Rakuten (via seller Boulanger) thanks to a promo code. ARMY100 ".
If you're more interested in the MacBook Air 2022 M2, the latter is also on sale from €1,499 to €1,249 on Rakuten (8GB RAM, 256GB SSD) using the same promo code (via Boulanger): ARMY100.
---
If the offer mentioned in this article is no longer available, take a look below to find other promotions for the Apple MacBook Air 2020 M1. The table is updated automatically.
Where to buy

Apple MacBook Air 2020 M1 at the best price?
A chip is still relevant
By deciding to design its own ARM chip, Apple shook up the market with the MacBook Air M1 2020. This model supersedes the Intel processors that powered its predecessors. It's simple: the performance is significantly better than what the more expensive Intel MacBook Pro offers. For comparison, processor performance is up to 3.5 times faster than Intel, and graphics performance is up to 5 times faster.
Since then, the California firm has introduced new, more powerful chips, but the M1 still holds its own very well. This ultrabook it remains a very good deal, especially given its current price. Office tasks as well as more creative and professional tasks like video or photo editing will be performed smoothly. In addition, the MacBook Air M1 is very quiet and almost does not heat up even without fans.
Neat design and soothing autonomy
The MacBook Air 2020 retains the look of its predecessors and offers an exemplary finish with sober and refined aesthetics. Our aluminum chassis, as well as the backlit keyboard with Magic Keyboard – the butterfly keyboard – are more pleasant to use. Even though the 2022 model offers a 20% more compact design and sheds a few grams, the MacBook Air 2020 is also easy to carry with its 13-inch diagonal and 1.29 kilograms lighter weight. You can also count on the presence of Touch ID to unlock the device with one finger.
On the front is a 13-inch Retina True Tone display with a very wide color gamut (P3). Even if the most demanding still prefer to turn to the MacBook Pro, creators will especially appreciate this screen for video editing or photo processing. To ensure good productivity, MacBook Air M1 offers generous autonomy, which is 50% more than the previous generation. You could theoretically keep a day's worth of work indoors. Notably, this MacBook Air has an advertised 256GB SSD that's twice as fast as the previous generation, and 8GB of RAM to round out the package.
If you want to know more, here is our test on the Apple MacBook Air 2020 M1.
8 /10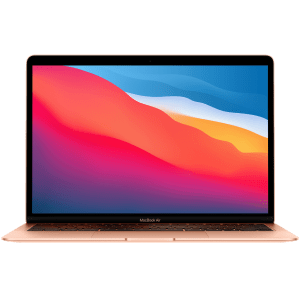 Winter sales: the best deals selected by Frandroid's editorial staff
The Winter Sales officially started in France on Wednesday 11th January 2023 at 8am and will end at midnight on Tuesday 7th February. At the moment, several merchants have drawn their best offers. Here are the best deals from our live sales.
Our picks by product category
Our picks by merchants
To make sure you don't miss out on any great deals from this event, there are a few reflexes you should take right now so you don't miss out on any of our recommended deals:
Follow us on our twitter account @FrandroidPromos dedicated only to good deals (don't forget to activate the call to receive real-time notifications)
Download our Frandroid app (available on iOS and Android) to enable notifications from the "Good Deals" category and get new 2023 Winter Sale items in real-time.
Subscribe to our Good Deals newsletter (multiple emails per day, 1-click unsubscribe, distribution to third parties) to make sure you get the deals firsthand:
---
Do you use Google News (French news)? You can watch your favorite media. Watch it Frandroid (and Numerama) on Google News.