Apple will rely on "real" FaceTime calls and content to sell its mixed reality headset
To sell the mixed reality "Reality Pro" headset, Apple will have two two-pronged arguments: "real" FaceTime calls and content advice. At least that's what Mark Gurman said tonight Bloomberg : it expects production to start in China next month, marketing may initially concern only the US ? at a price that will be around $3000 ?.
Suffice it to say that the target of 1 million units sold in the first year – which would be Apple's forecast – seems quite optimistic. But the manufacturer hopes to pick up the piece thanks to the very advanced FaceTime function: it will certainly allow you to chat with a virtual, but realistically replicated reporter. It would therefore be quite different from the experience offered by Meta, where cartoon avatars chat in a virtual room.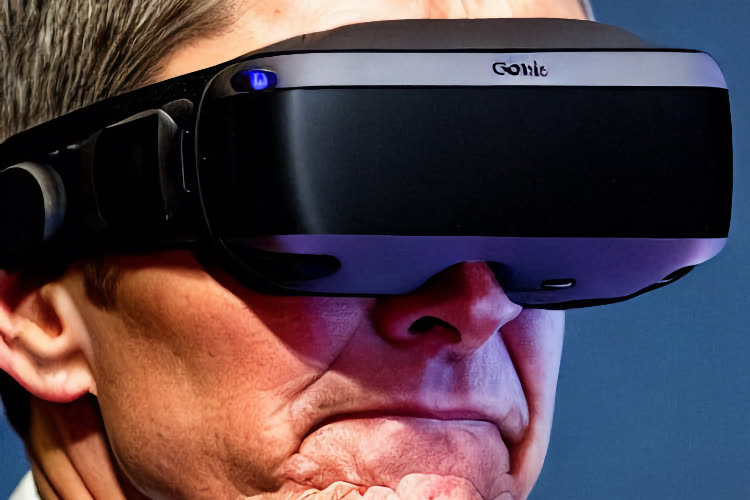 Apple's mixed reality headset will be unveiled in the spring and released in the fall
However, this real representation of users will only be for discussions between two people. For group chats, you'll have to make do with Memojis or icons. Another part of Apple's argument will be based on content. Apple would ask half a dozen partners (including Disney and Dolby) to produce content, while Apple TV+ would also participate.
The user would have the impression of watching a movie on a giant screen immersed in an amazing environment (for example, space or desert). For audio, AirPods will be required for spatial audio.
For a price like that, you'll need to do a little more than a simple Meta Quest 2. Therefore, Apple would consider "productivity" features such as the ability to make the headset an external monitor for the Mac. The user will continue to control their computer with a keyboard and mouse (physical peripherals).
The helmet will immerse the user in the virtual universe, but the "pass" function will allow to offer an augmented reality experience, that is, virtual elements placed directly in their environment. A digital crown-type button will allow you to switch from one to the other in an instant.
Two short hours of battery life for XrOS?
Internally called xrOS, the operating system will have iOS-like features, but in a 3D environment: Safari, Photos, Mail, Messages and Calendar, as well as Apple Music, Apple TV+ and Podcasts. The App Store will allow you to install third-party apps.
The device will display a sort of 3D home screen reminiscent of the iPhone, with app icons and widgets that can be arranged for your convenience. Text input can be via Siri or via the iPhone, iPad or Mac keyboard. Typing "in the air" on the virtual keyboard will not be possible a priori, even Apple seems to be working on it. On the other hand, we can point to virtual elements with the thumb and forefinger. From what we understand, the manufacturer has worked hard on understanding hand gestures as well as eye tracking.
The helmet will work with the M2 chip and a special processor (called the Reality Processor) to grind the graphics. A fan will also be integrated to prevent the machine from overheating and burning the user's face. The latter should also carry the battery in its pocket, which will be connected to the helmet by a cable. The device would be as big as two iPhone 14 Pro Max stacked on top of each other. After all, the helmet was only supposed to offer two short hours of autonomy. Just to watch a movie…
Although Apple hopes to rock the house with this product, the manufacturer will realize that the high price and reduced autonomy will be a killer for many consumers. Especially for the general public whose budget for electronic gadgets is less than in the past. However, Apple is hoping that the allure of the novelty will entice people to enter an Apple Store to at least try out the device and perhaps leave with a gadget under their arm.
Apple also intended to create "stores within a store" to showcase the helmet. For many of us, this will surely be the only way to test this product!