It's already affordable, the excellent Realme 9 is on sale for less than 200 euros
For an entry-level smartphone, the Realme 9 offers a solid spec sheet that can satisfy most users without paying a hefty price tag. It is currently available for €199 instead of €279.99 at launch.
Realme 9 is an entry-level smartphone. For the price, maybe, but that's without taking into account the balanced technical report, which will almost approach the mid-range segment. With a good software experience and a long battery life, this smartphone has it all, especially as it benefits from a €80 discount during the winter sales.
Pros of Realme 9
Amoled FHD+ display at 90 Hz
Efficient SoC
Excellent autonomy
Not to mention the interface close to stock Android
The Realme 9 (4G), which retails for a recommended price of €279.99, is discounted to €199 on Cdiscount. Available from Amazon for the same price.
If the offer mentioned in this article is no longer available, take a look below to find other promotions for the Realme 9. The table is updated automatically.
Where to buy

Realme 9 4G at the best price?
A smartphone with the right compromises
If the design of the Realme 9 remains very common, its finishes are neat with a screen with thin bezels and a punch on the top left where the front camera is located. It will attract the most people with its well-calibrated AMOLED screen in FHD+ and 90 Hz refresh rate that guarantees good fluidity.
On the back of the smartphone we find a triple photo sensor with a main 108-megapixel, an 8-megapixel wide-angle and a 2-megapixel macro lens. Overall, it offers versatility, but the macro sensor is pretty anecdotal. When it comes to shots, the main sensor is effective at getting decent photos, but as is often the case in this segment, there will be some limitations in low light.
Fluid and durable
The Chinese brand wanted to equip its smartphone with the Snapdragon 680 SoC with 6GB of RAM. With this processor option, Realme 9 has enough power to be comfortable in many tasks, even some 3D games, but without high graphics. The user experience will be fluid with the Realme UI interface as close as possible to the stock Android experience, although some fluidity issues may be felt.
As for autonomy, the Realme smartphone has an impressive 5000 mAh battery. During our testing, it was able to last two days without any issues, even with all-day use, or three days if you're a light user. This is its greatest strength and the point where it will not disappoint you at all. On the downside, it's limited by the lack of fast charging and wireless charging these days.
If you want to know more, here is our full test on the Realme 9.
7 /10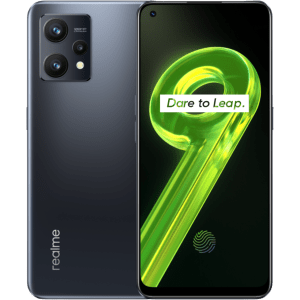 Winter sales: the best deals according to Frandroid
The Winter Sales officially started in France on Wednesday 11th January 2023 at 8am and will end at midnight on Tuesday 7th February. At the moment, several merchants have drawn their best offers. Here are the best deals from our live sales.
To make sure you don't miss out on any great deals from this event, here are a few reflexes to take right now so you don't miss out on any of our recommended deals:
Follow us on our twitter account @FrandroidPromos dedicated only to good deals (don't forget to activate the call to receive real-time notifications)
Download our Frandroid app (available on iOS and Android) to enable notifications from the "Good Deals" category so you can get new 2023 Winter Sale items in real time.
Subscribe to our Good Deals newsletter (multiple emails per day, 1-click unsubscribe, distribution to third parties) to make sure you get the deals firsthand:
---
Want to join a community of enthusiasts? Welcome to our Discord, a place of mutual help and passion around technology.