10 key numbers to know in 2023
Learn how the mobile app market is changing around the world: downloads, spending, usage, and more.
Estelle Raffin / has been published
As every year, data.ai (formerly App Annie) publishes the results of its annual report on the global mobile market: more than 100 million data items were analyzed in more than 30 countries. We are counting down to 2022!
10 key figures in the mobile app market
Key numbers to keep in mind for 2022 include:
255 billion new app downloads during the year (+11%*),
111.11 billion new downloads in China (number 1),
2.13 billion new downloads in France (number 18),
485,000 new app downloads per minute,
$167 billion was spent on app stores (-2%).
5 hours are spent per user per day (+3%).
336 billion dollars (+14%) were spent on advertising
$110 billion spent by gamers,
an average of $318,000 was spent per minute,
Worldwide, 4.1 trillion hours were spent on mobile applications (+9%).
*This is an annual comparison between 2022 and 2021 (YY).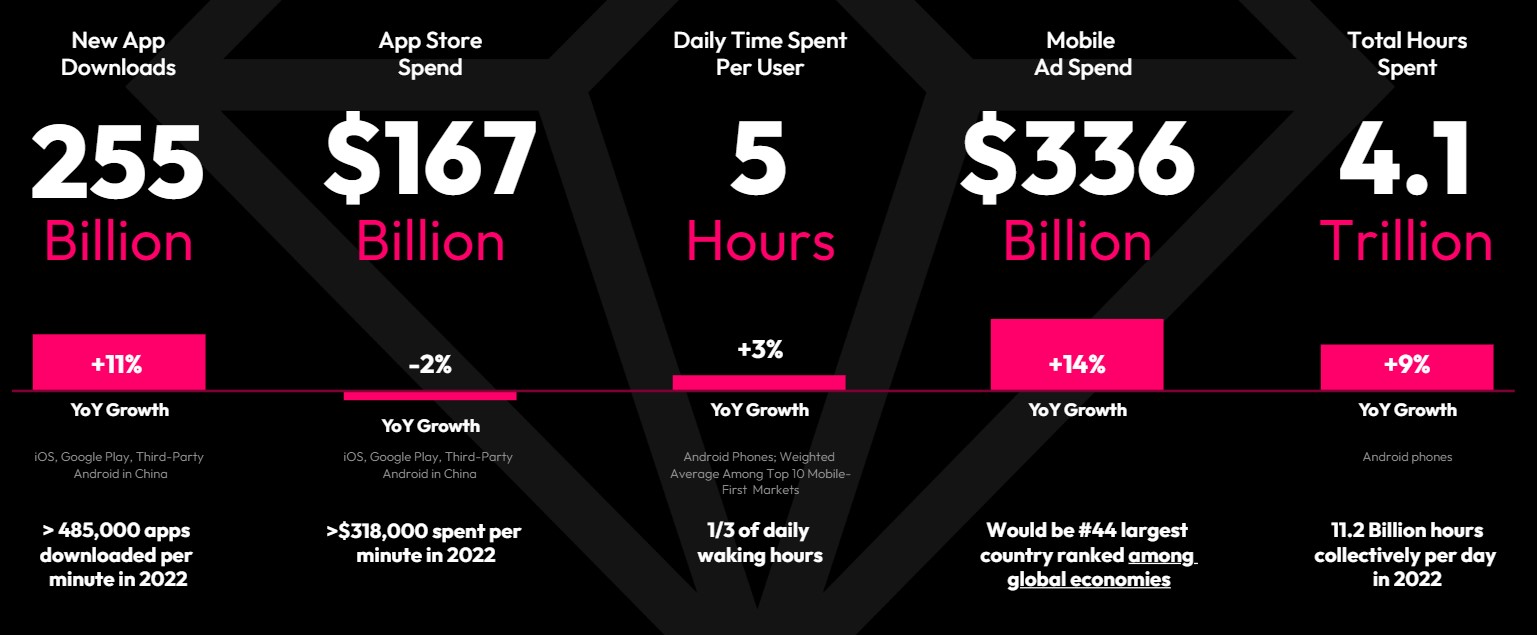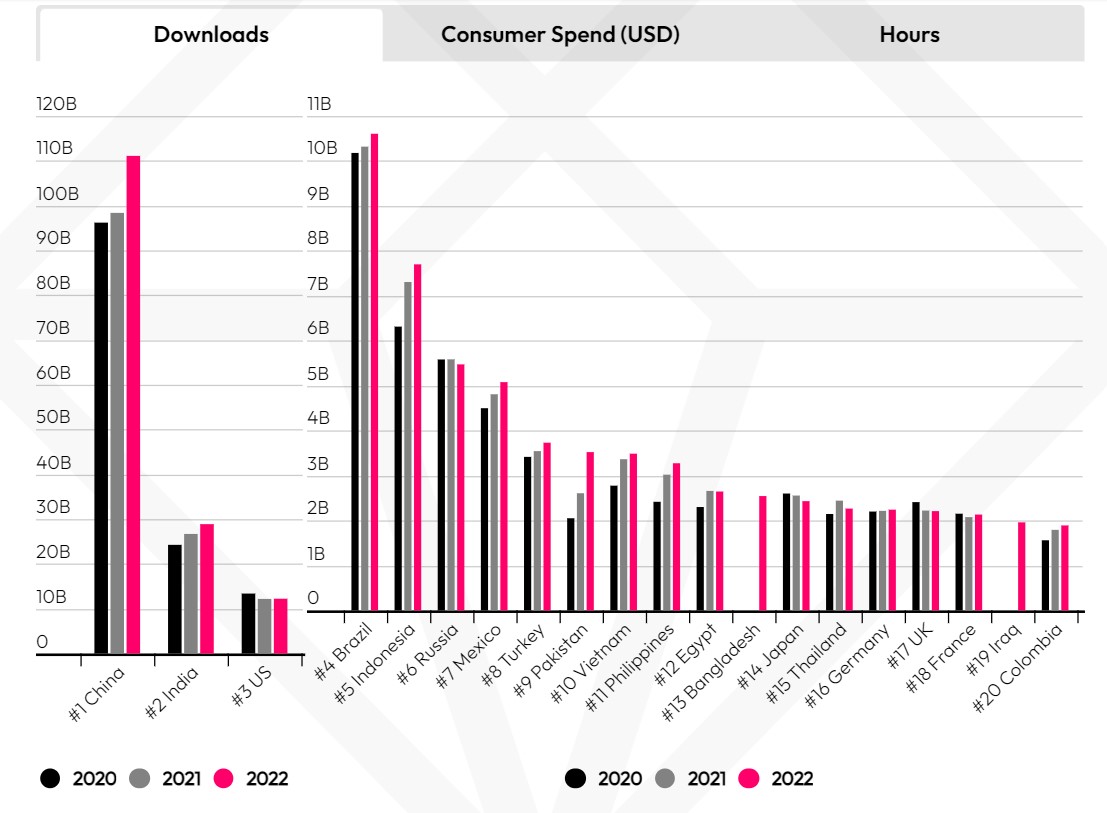 Most downloaded apps in the world
Below you will find 3 rankings: the most downloaded apps in the world, the apps with the most consumers spending, and the apps with the most active users per month.
What to remember:
There are 3 social media apps in the top 3 most downloaded apps in the world: Instagram, TikTok and Facebook.
TikTok, YouTube and Tinder are the top consumer spending apps in the world.
The Meta group dominates in terms of the number of active users and occupies 3 places on the podium: Facebook, WhatsApp and Instagram.

Most downloaded apps in France
data.ai also provides us with data for France. The 3 most downloaded apps in 2022 are: WhatsApp, TikTok and Doctolib. The top 3 in 2021 were as follows: TousAntiCovid, WhatsApp and TikTok.
What to remember:
WhatsApp is the most downloaded app in France and has the most active users per month.
Telegram, Lidl Plus, CapCut and Waze are among the top 10 most downloaded apps this year.
Tiktok, Deezer and Disney+ are the apps that generate the most spending by French consumers.
Most used apps by age in France
data.ai also highlights differences in app usage by age group. The apps with the most monthly active users by generation are:
For 18-24 year olds: Instagram, Snapchat, Netflix
For 25-44 year olds: WhatsApp, Facebook, Messenger
For those 45 and older: TousAntiCovid, Waze, MaBanque (Credit Agricole)
First observation: there is no common application in the first 3 of these 3 age groups, i.e. the uses differ by generation. For example, 18-24 year olds don't use the same social media apps to communicate as 25-44 year olds. If the youngest will prefer Instagram and Snapchat, others will turn more to WhatsApp or Facebook. What about those 45 and older? The top 5 do not have any social media apps, they are more likely to use service apps: health, banking, supermarkets, etc.