M&D Debrief: special edition #CES2023 and sales launch!
Here's the first report of the year: last week was really absent as I opted to finish covering CES 2023. Again this year, given the health and economic context, I chose not to travel to Las Vegas in person to cover CES. The 2022 edition, which marked the return of CES to a physical version, had fewer exhibitors and only 40,000 visitors. Transitional version. The 2023 edition was even more successful, with 200,000 visitors, more than 3,000 exhibitors, spread over 250,000 m2 (or about forty football fields to give you an idea). 173 countries were represented there, which is once again a very good place, especially for France, which is rich in startups.
This CES was once again an opportunity to discover many new features, which I shared with you over the past 15 days through about twenty articles:
Bluetti unveils its latest Innovation Award-winning AC500 power supply system at #CES2023!

EcoFlow unveils a new home energy solution at #CES2023, including a portable refrigerator and… a robotic lawnmower!

Lifeaz introduces the first portable and connected defibrillator for the home at #CES2023

Fogo, the new generation radiator compatible with Matter, was honored at #CES2023

Landroid Vision: no need to install, pose and mow everywhere thanks to artificial intelligence! #CES2023

NEO Smart: After Zwave and ZigBee devices, Matter compatible WiFi models are here! #CES2023

Schneider Home: The all-in-one solution for energy autonomy awarded at #CES2023

The Eve home automation range for Homekit opens up to the world thanks to Matter! #CES2023

HCA announces new specifications for better interoperability between 'connected homes' at #CES2023

Nanoleaf: smart switches, ambilight system and Matter support announced at #CES2023!

Evvr Hub, a wall-mounted and multi-protocol home automation box, was awarded at #CES2023

Homey Pro: a multi-protocol home automation box to talk about! #CES2023

Samsung SmartThings Station: Matter home automation center with fast charging!

AQARA: 4 new connected products unveiled at #CES2023 and the arrival of Matter

Withings U-Scan: #1 personal urinalysis lab awarded at #CES2023!

Yeelight Cube Smart Bulb: A great modular connected bulb unveiled at #CES2023

The new SwitchBot Hub 2 Matter fits! #CES2023

Reolink introduced new dual-lens, auto-tracking cameras at #CES2023

Philips Hue: new products and Ambilight for Samsung TV at #CES2023!

Roborock unveils S8 range at #CES2023, including new Roborock S8 Pro Ultra cleaning station

Flic Twist: the new smart button for the connected home #CES2023

UpLock Evolution: A French-made secure and connected portable safe unveiled at #CES2023
A recurring theme that already had a good start last year: Matter (which I introduced to you here): this is a new communication protocol aimed at standardizing home automation and related objects a bit, so that all these devices are from different devices. manufacturers can communicate with each other and thus make life easier for users so that they no longer have to worry about the protocol being used. Amazon, Apple, Comcast, Google, SmartThings and the Connectivity Standards Alliance (CSA, formerly the ZigBee Alliance) came together in 2019 to develop and promote this new standard, and member companies of the Alliance's Board of Directors, namely IKEA, Legrand, NXP Semiconductors , Resideo, Schneider Electric, Signify (Philips Hue), Silicon Labs, Somfy and Wulian.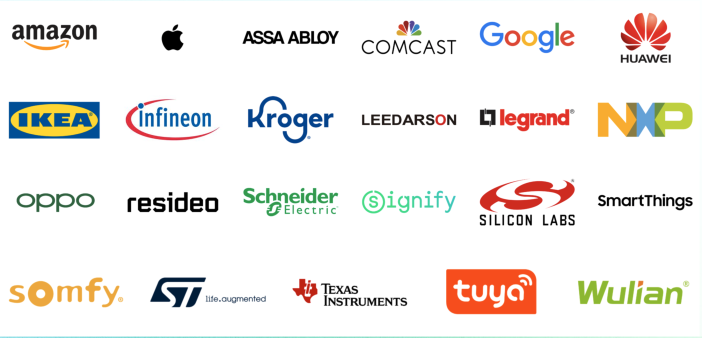 Today, about 400 manufacturers have joined this alliance, including longtime competitors. This is the first time that many manufacturers have been able to agree on this kind of standardization of home automation! A very promising project that should greatly contribute to the democratization of the smart home.
During this CES, many manufacturers announced the compatibility of their products with Matter, which will allow several hundred products to be quickly available on this protocol starting this month: Agara, Samsung, Homey, Nanoleaf, Eve, SwitchBot, Neo Smart, Fogo , and so on. With many products and many home automation boxes (including Jeedom with its latest Luna version) that will be compatible very quickly, the issue will be one to watch this year.
Faced with this, Samsung still continued to work on its own alliance, the Home Connectivity Alliance. I'm still not sure that makes sense. We'll have to wait a few more months to see what this new grouping really brings.
On the home automation side, I fell in love with the new Homey Pro home automation box, which is compatible with Zwave, ZigBee, Bluetooth, IR, Wifi, Thread and of course Matter, all with local and impressive scenario capabilities! I will do my best to bring you a full test of it during the year, because for me it will be one of the solutions not to be missed!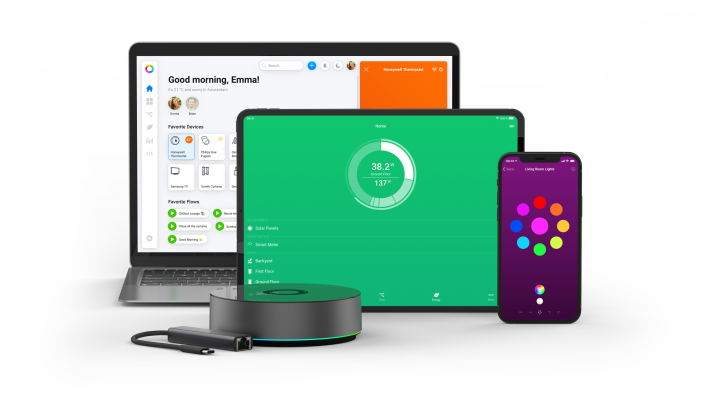 Among other interesting topics of this CES, we note the presentation of many solutions aimed at energy autonomy in housing. Schneider Electric is a major player in this field and also offers a very complete solution in the US, from managing solar energy production to supplying the home through electric vehicle charging.
The main nomadic battery manufacturers were there of course with Ecoflow, Bluetti and Jackery. If the three offer many models of portable batteries, for example, for VanLife, manufacturers offer energy solutions for homes, especially in the event of a power outage. Jackery has particularly attracted attention with its innovative solutions for green energy production, with a portable double wind turbine or even a battery integrated into a tire that is charged by kinetic force!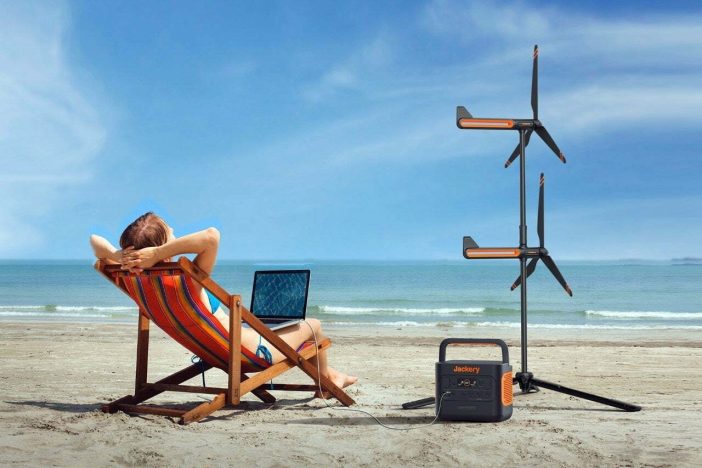 Ecoflow has also created a surprise with a product that goes completely beyond energy autonomy: a robotic lawnmower! Awarded at CES, it features a carrying basket to collect grass clippings and leaves. This is the first device to offer this!
On the robotic lawnmower side, Landroid has introduced a robot that no longer needs perimeter wiring, making installation much easier and also has a radar system to map the area. A forgotten toy in the lawn, a garden hose lying around, etc. No more problems for this robot that detects and recognizes them!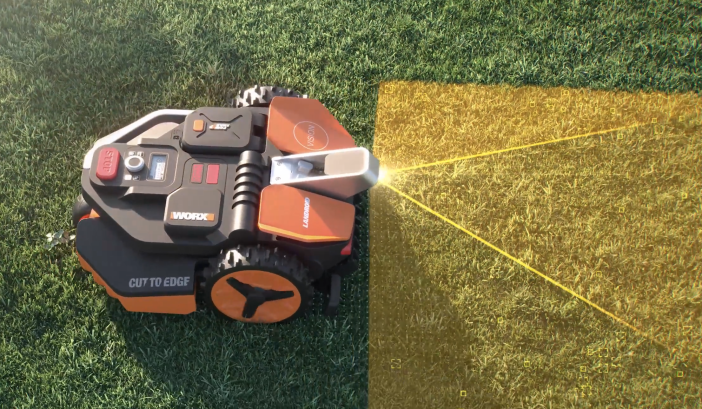 Another product that I found really interesting, with real utility, because it can save lives: a portable and connected defibrillator from LifeAz. The connected part above all allows for device maintenance: updates and instructions for replacing the battery or electrodes. Knowing that intervention should be done within 4 minutes during a heart attack, in other words, help is usually too late. Having such a device at home can save the life of a loved one or a neighbor.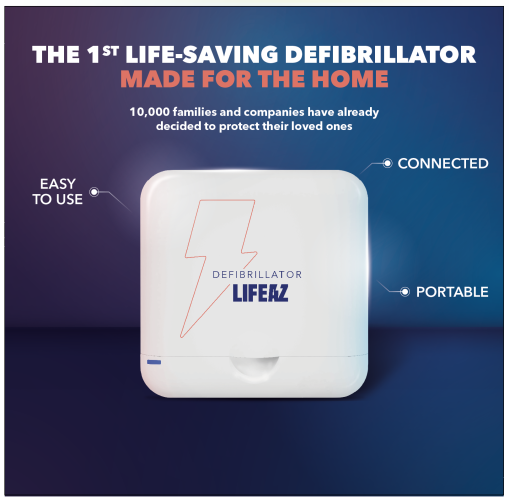 Of course, CES is not only about that, and hundreds of products were presented. I'll talk about some of them in the coming weeks or when they actually hit the market. In the meantime, you can check out this short video to get an overview of the other areas that appeared at CES: robots, a BMW car that changes color thanks to its body on e-ink screens, 3D printing, and more.
Good plans not to be missed
The sales started last Wednesday and there are many good deals available on this occasion. In particular, you will find:
With that, I wish you a wonderful weekend! I'll make an appointment for you next week to get back into a little more normal rhythm with product tests, tutorials, and always news from the field!