WoW Dragonflight: The highly anticipated Patch 10.0.5 release date has been revealed!
As World of Warcraft's ninth expansion, Dragonflight, has just begun entering the so-called "idle phase" where players quietly farm while waiting for the next big update, Blizzard has finally revealed the upcoming update. Patch 10.0.5. A long-awaited surprise announcement, albeit a small one!
Patch 10.0.5 release date on Dragonflight
Launched on November 29, 2022, Dragonflight continues to be loved by many players despite some glaring flaws in the eyes of some. However, if World of Warcraft players have been used to the relatively slow rate of deployment of updates for many years, Blizzard chose to deliver a serious blow by introducing the first minor content update two months after the expansion's launch.
A pace that could easily be described as frenetic compared to the most recent expansions to date without losing momentum for players looking for the challenges of Season 1, as it's meant to provide snacks while you wait for the rest, rather than replace it. This update is Patch 10.0.5 and we already know its release date: go Wednesday, January 25, 2023, 5:00 a.m. (Paris time) To enjoy the main features of this new update in Europe!
Dragonflight Patch 10.0.5 content details
Patch 10.0.5 offers a relatively modest range of new content that allows the World of Warcraft community to tackle some new features alongside their usual activities of raids, dungeons, arenas, and rated battlegrounds. Season 1. The idea here is not to replace the original. season, on the contrary, it needs to be improved so that everyone can find their benefit while waiting for the next calls of Patch 10.1 (of which we still know nothing to this day).
Key features of this minor update, along with possible explanations:
Content for Wednesday, January 25, 2023 on Dragonflight
Deploying Inspiration Catalyst: You can now create your own class's kit parts (or edge equivalents if not Head, Shoulders, Torso, Hands, or Legs) from items acquired in Dragonflight Season 1. A great way to catch up, equip your secondary characters, or make up for the absolute lack of luck in the early weeks of the expansion!

Access to Wrath of the Storm events: You can borrow every 5 hours in the temporary fusion of The Future of the Primalists at the Future of the Thaldraszus to defeat and repel a powerful Primalist invasion. If you win, you win

The basics of the storm

interchangeable mount with cosmetic items

Cerulean Striderwood

for example, or level 385 gear

Primalist kit

Added new functionality to transfer most Medium (gray) and Common (white) quality items

Many balances of most classes and specialties. Official and complete list

can be found here

(in English only)

Added several classes of NPCs to Orgrimmar, Stormwind, Thunder Bluffs and Exodar: Mage, Priest and Rogue master from each of the new races from Dragonflight who can play these classes now appear in each of these capitals (Draenei, Draenei Lightforge, Orc, Tauren and Mountain Tauren). The Tauren Thieves Master can also be found in the Legion Thieves Class Hall

Added many new swaps of Style transmogs to transmogrifiers in Stormwind and Orgrimmar

Added various improvements to the interface dedicated to Dragonflight professions as well as commands

Added numerous improvements dedicated to interface and accessibility, especially through Edit Mode. In addition, it is now possible to copy the talent tree of a player you have checked in the game.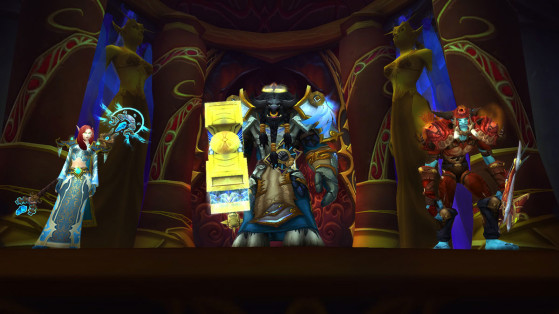 Content for Wednesday, February 1, 2023 on Dragonflight
Introducing Trading Post to Stormwind and Orgrimmar: This new, completely free system aims to encourage players to log in regularly and travel the world in search of unique and cosmetic-only rewards. This is accompanied by the addition of a new currency

Denarius

, can be earned at the rate of 500 each month during your first login, but also by completing numerous and varied tasks through the Travel Journal. For example, you can be asked to resurrect a certain number of players in exchange for 50

Denarius

! These activities can be done within the current month, so there is no need to rush!
Please note that the rewards obtained through Comptoir are only cosmetic, unique and only available for one month, after which a series of new objects appear in the following month, etc. Some of the most notable include never-before-seen in-game gear (even some from the Battle.net Store), sometimes unique transmogs, sometimes long-awaited repaints of old items, and more. includes!