Assassin's Creed Mirage: "fully immersive" and ambitious despite itself, according to Ubisoft
Game News Assassin's Creed Mirage: "fully immersive" and ambitious despite itself, according to Ubisoft
Assassin's Creed Mirage, which was announced a while ago, should be offered this year 2023, without knowing exactly when. In anticipation of the release date, a developer from Ubisoft spoke about the studio's vision for this rather special opus.
Back to basics
After many years of work, the Assassin's Creed saga experienced a certain lack of breath, which led Ubisoft to take a risk: prefer a new twist and a new release rhythm, something that was done with the work of Origins and its pushed RPG side. Only here, if the formula pleases many, many fans lament the original vision of the saga, then focusing on infiltration and a smaller open world.
This is exactly where Assassin's Creed Mirage will be headed: its action will be set in the middle of Baghdad, in the 9th century, with a simpler action based on fate.. A setup that is clearly reminiscent of the first episode.
Creative director Stefan Boudon recently spoke with GamesRadar+: according to himit's really a love letter to the first games, but it will especially benefit from advanced modern technology.
The increased power of the hardware and the extensive experience we have developed allow us to obtain a richer and denser map than the first ACs.

For us, this means more playability, more system interoperability, more depth. It also means incredible, immersive detail to treat Baghdad as one of the main characters of Mirage.
Fouloscopy
Because yes, if we embody Basim, a character who appears in Assassin's Creed Valhalla, Baghdad will hold a very important place in history. And not because the map will be small, but on the contrary, because the technical ambitions are neglected. Crowds will be a key gameplay mechanic.
For mass mixing, for example, we took a more systematic approach. In AC 2, you can see the clustering pattern in the lane of NPCs. It was amazing at the time, but a bit contrived.

Such a system would not fit in with the chaos and vitality of the Baghdad we want. So we have a more organic aim, like in AC Unity, which has a bit of automatic mixing. When you have three people around, it's harder to master and less predictable, but more engaging.
So the crowd will reclaim their rights in this new installment, this should mainly support infiltration.
We've also reworked stealth tools and their morphs for stealth. Some of them are tools we already know (smoke, throwing knives), but the team is working on special improvements that will allow you to reinvent them, perfectly suiting your playstyle.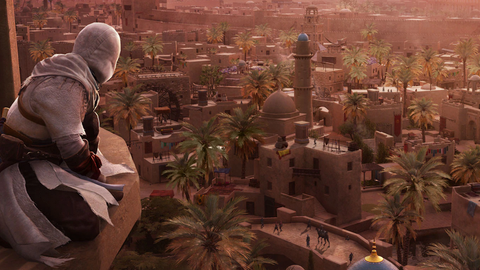 "Full immersion"
Undoubtedly, the great aspect of the latest Assassin's Creed is the attraction for many. It's also a brake for others who don't want to sink themselves for dozens and dozens of hours. in an adventure with RPG mechanics that requires a certain investment.
As Boudoin admits, Mirage will offer a tighter, reduced scale to gameplay, story and atmosphere. Some would say a blessing.
With a tighter scope and focus on Basim and his coming-of-age story, our main goal with Mirage is to fully cover 9th-century Baghdad, as well as the key events of the period for "The Unseen." ". We wanted this game to be a stand-alone game that everyone could enjoy.
A cocktail that already speaks for many fans who want to find a more original experience closer to the original vision of the series. wow Mirage doesn't have a release date yet, but will launch in 2023 on PC, PS5, PS4, Xbox Series, and Xbox One.
---