Nanoleaf: smart switches, ambilight system and Matter support announced at #CES2023!
Nanoleaf, now known for its innovative and connected ambient lighting, unveiled a slew of new products at CES 2023. First of all, its first smart switches: Sense Plus. Truly smarter switches than the competition because they have built-in sensors designed to learn your lighting habits! Then comes an Ambilight-like system for the TV, as well as support for the Matter protocol.
Nanoleaf Sense Plus Control: true smart switches
First announced at CES 2020, it took more than four years for Nanoleaf's Sense Plus Control smart switches to see the light of day. The company started out using Bluetooth networking, but switched to Thread to take advantage of lower power consumption, lower latency, and more reliable networking. But then we had to wait for Matter to be deployed. Now that the new smart home interoperability standard has arrived, Nanoleaf is finally in a position to start its own little revolution.
Smart lighting is not so smart. There should be lighting that knows what light you need and does it for you. We want to move smart lighting from remote control to intelligence, the ability to make decisions for you. But we didn't want the system to turn off the lights at the wrong time, or worse, turn them on at the wrong time."

Mr. Chu, CEO of Nanoleaf
Compatible with Matter and powered by Thread, these lighting controls therefore have integrated motion and ambient light sensors. They're designed to work with another new product, Nanoleaf's Nala Learning Bridge, which acts as a hub for learning these smart switches and intelligently adapting your lighting to your home habits.
Of course, each switch has an on/off button and a dimming slider (a touch wheel on a wired switch and an up/down button on a wireless switch). There are also two other buttons that can be assigned to different functions, such as cycling through preset Nanoleaf scenes or activating preset circadian lighting.
Using hardware-integrated infrared motion sensors and ambient light sensors and learning algorithms powered by Nanoleaf's new smart automation learning assistant, Nala, Sense Plus is designed to learn how you like your lighting at certain times of day and provide you with apps and suggested settings. In the Nanoleaf application.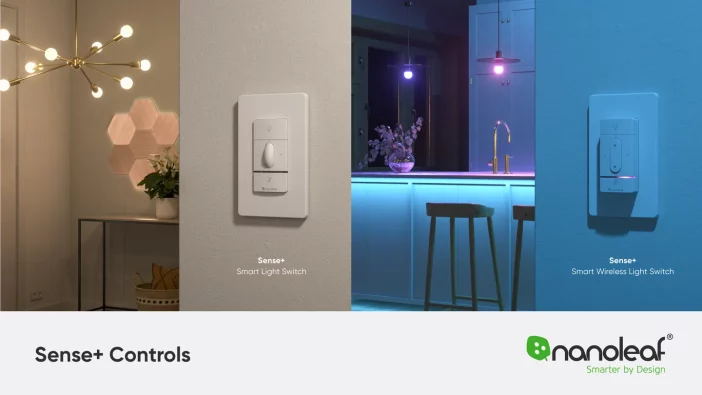 For example, if you set your home office to maximum brightness every morning at 9am, and your living room to warm white in the evening, Nala should recognize this and suggest creating lighting automations that trigger when you enter the room. the right light at the right time of day. For example, as offered by the Nest thermostat for heating.
The more you interact with the switchers, the higher their trust level will be, explains its designer. However, the system does not make these adjustments automatically. Instead, it offers settings in the Nanoleaf app and you can choose to enable them. You remain the sole master of the system.
The manufacturer claims that Sense Plus can also learn your movements around your home. If you set neighboring spaces in the app, it will learn when the motion sensors go off in a row and, for example, suggest turning on the light in the bedroom when you walk down the hall to that room. Thus, the system can predict your movements at home.
The system works with all Nanoleaf bulbs and will be compatible with all Article-compliant bulbs (so including competing brands). With Nanoleaf lamps, you will be able to use dynamic lighting scenes between the lamps and the Nanoleaf panels, so you can turn your bedroom into different shades of blue in the evenings if you wish.
Learning features are optional and you can use Sense Plus switches like regular smart switches without the Nala Bridge. But since they are Thread switches, they need a Thread router. The bridge is a router and the plug-in also has built-in PIR motion and ambient light sensors and a color-changing night light. The shapes, elements and lines of the Nanoleaf, a router, can also be upgraded to become a Nala bridge.
Two versions of the switches will be available: a wired version and a wireless version.
The wired Sense Plus switch does not require a neutral wire and can control conventional dim or non-dimmable LED bulbs as well as Nanoleaf smart bulbs.
The wireless switch is powered by a battery.
The switch and the bridge will be handed over in the 3rd quarter of 2023. Pricing has yet to be determined, but the manufacturer is aiming for around $20 for the button/wireless switch and $50 for the wired switch.
Nanoleaf 4D TV Smarter Kit: to synchronize the lighting with the TV
Nanoleaf expands its line of addressable smart lighting with new technology aimed at bringing a more immersive viewing experience to your TV: the Nanoleaf 4D TV Smarter Kit. This new product is presented as a series of RGB light strips designed to reflect the colors of your TV using a small camera aimed at the screen, with the aim of achieving the well-known Ambilight effect on Philips TVs.
What sets the 4D Kit apart from other light strips offered by Nanoleaf is its tiny camera.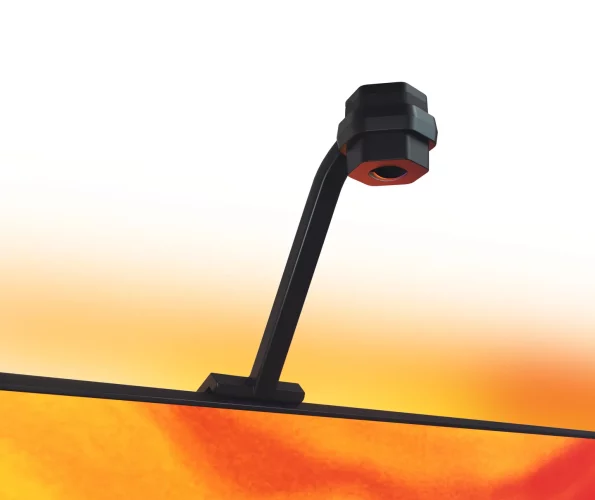 This 4D camera can be aimed at the top of your TV screen or mounted on top of it facing the floor. The camera plugs into a small box connected to light strips and has buttons to set the light reference as a screen or playing music (similar to the Rhythm feature currently available on other Nanoleaf products), as well as the ability to cycle through existing themes or turn them off completely.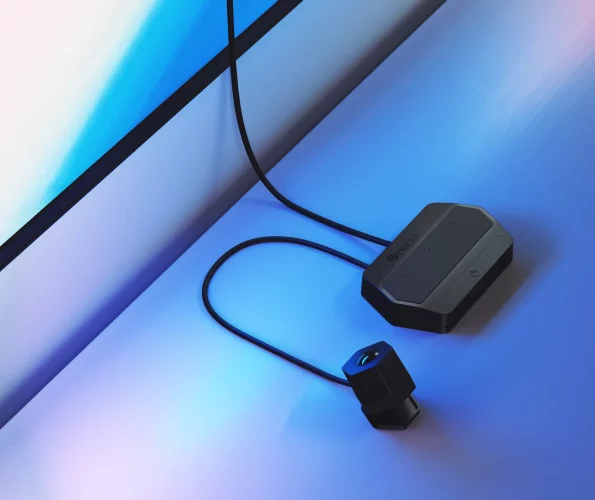 The light strip measures between 3.8 and 5 m depending on the model).
Other manufacturers like Govee already offer a similar system with a camera that can be used on your TV or computer screens. There are even some software kits like Razer Synapse that are compatible with Philips Hue and Lifx smart lights and offer the same functionality without the need for a camera. The Hue system also offers a box that sits between your media and lights to sync the two, but that's an unfortunately expensive solution.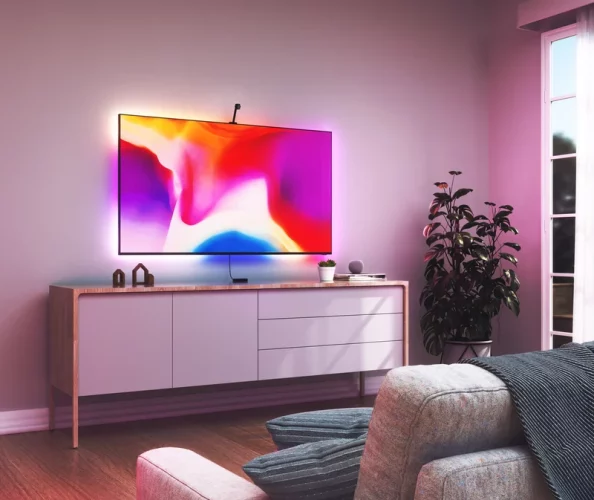 In addition to being more affordable, Nanoleaf's 4D Lighting Kit has several additional features not offered by its competitors. In addition to being compatible with Matter, Nanoleaf lets you sync all your existing Nanoleaf lights with what the camera sees through a new software feature called Sync Plus. It will be limited to the 4D Camera Kit at launch, but will be available for other Nanoleaf products through a future firmware update.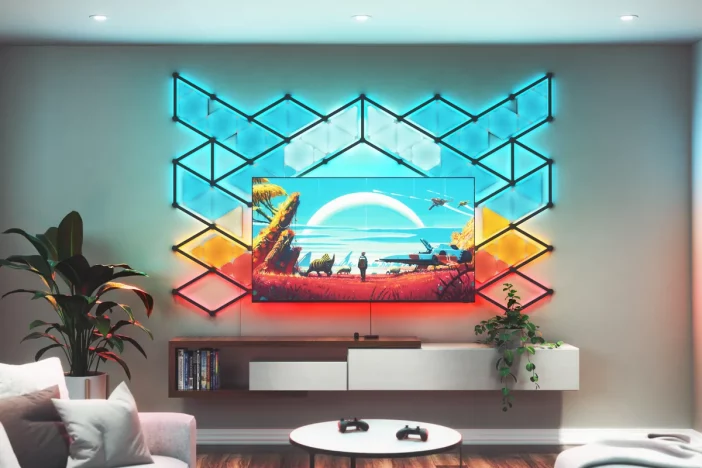 The 4D Kit will come in two sizes, one for 55-65-inch TVs and the other for 70-80-inch TVs. It will be available from 2023 and will start at $99.99. The camera itself will also be sold (for use with your existing Nanoleaf light), but no pricing has been announced yet.
Other products announced
The manufacturer announced many other innovations. Of particular note is the amazing Nanoleaf Skylight, which should be a hit in any home: this modular ceiling light consists of square LED panels and can mimic or convey the presence of skylight on your roof with adjustable white light of up to 3000 lumens. A dynamic light scene that uses some of the 16 million colors.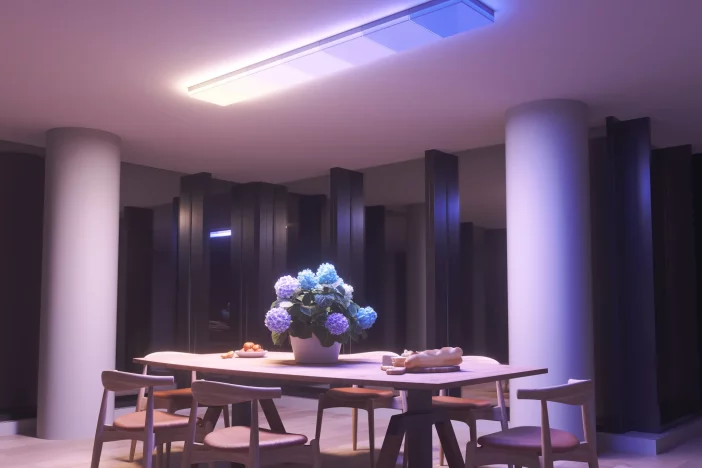 The Skylight is a Matter-enabled Wi-Fi ceiling panel that can sync with voice and will have the same motion and light sensors as the Sense Plus switches. Its design is similar to the company's wall panels. Two- and four-pack Skylight starter kits will arrive in Q3 2023. Prices have not been disclosed.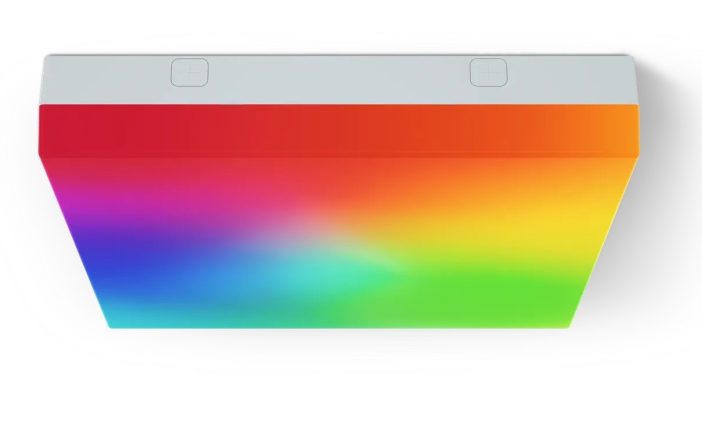 The company also confirmed that Matter-enabled light bulbs and strips and Thread-powered Essentials will arrive in the first quarter. Prices start at $19.99. The range includes A19, BR30 and GU10 bulbs, a recessed downlight and a colored strip light.
Material arrival support
Today, we can no longer be players in the connected home without adapting to Matter, the new protocol that should connect the entire connected home.
Nanoleaf CEO Gimmy Chu said the company will offer an upgrade to Matter across all modular light panels and light bars (Images, Elements, Canvas and Lines).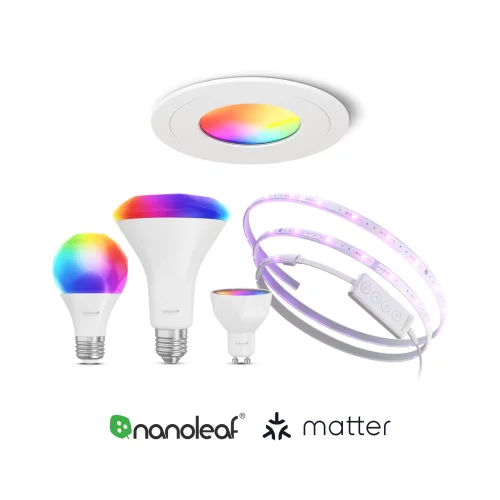 Matter compatibility means that lighting products will work with Apple Home, Amazon Alexa, Google Home and Samsung SmartThings right out of the box, as well as any other Matter enabled product.
Only existing Nanoleaf Essentials light strips and A19 bulbs will not be upgradable to Matter.