CES 2023: ASUS ROG unveils futuristic case, ergonomic chair, wireless controller, WiFi 7 router and gaming tower
ASUS and its affiliate Republic of Gamers available now Hyperion GR701 case, Rapture GT-BE98 router, Raikiri Pro controller, Destrier Ergo gaming chair and G22CH tower PChere are all the details:
ROG Hyperion GR701 – A new benchmark in airflow :
The world of PC building has changed. Whether it's next-generation graphics cards like the NVIDIA GeForce RTX 4090 or faster data transfer and USB charging speeds than ever before, a PC case needs to support the latest and greatest technologies available on the market. . ASUS designed the ROG Hyperion as a durable, sleek chassis that's ready for the future of DIY gaming rigs—with an airflow-focused design that keeps components running at peak performance.
Spacious and adaptable space : ROG Hyperion is designed for the future. It supports E-ATX form factor motherboards, has two front USB 3.2 Gen 2×2 Type-C ports and plenty of expansion slots for future upgrades. The Hyperion is roomy enough to accommodate even the largest graphics cards, such as the ROG Strix GeForce RTX 4090. Whether mounted vertically or horizontally, the integrated aluminum graphics card holder will prevent the card from bending, regardless of its size, while also simplifying cable management. . In addition, ASUS has allocated 34 mm of space behind the motherboard to keep all the cables. An integrated ARGB controller provides a place to connect all Aura Sync devices and supports up to eight ARGB devices and six PWM fans.
Designed for DIYers : The Hyperion is a full chassis with plenty of room to work – not huge. It's the little ergonomic choices that really take the Hyperion to the next level. For example, the ROG Hyperion offers a small recessed drawer at the bottom of the case to store screws, accessories and even a small screwdriver to keep all parts of the case safe. Finally, there is an opening in the chassis to reveal the OLED screen of the ROG Thor power supply.
ROG Rapture GT-BE98: The world's first quad-band Wi-Fi 7 gaming router :
ROG Rapture GT-BE98 is the world's first quad-band Wi-Fi 7 gaming router. Supporting 320 MHz channels in the 6 GHz band, it utilizes the full potential of Wi-Fi 7, providing speeds up to 160% faster than before. generation. In addition, maximum data rates are up to 20% higher with 4K QAM modulation, which packs more data into transmissions, allowing an incredible transfer rate of 25,000 Mb. In addition, it offers two other revolutionary features: Multi-Link operation and Multi- RU punching, which allows the Link GT-BE98 to provide a more efficient and reliable wireless connection.
Multi-Link operation allows simultaneous transmission on different bands and channels to increase device throughput, reduce latency, and improve reliability. Multi-RU punching divides a large bandwidth channel into smaller units, eliminating interference and improving communication efficiency.
Gamers can enjoy 10x faster data transfer speeds for bandwidth-intensive tasks with one 10Gb/s WAN/LAN port and two 10Gb/s LAN ports. Also, for gamers living in large homes, the exclusive ASUS RangeBoost Plus feature improves signal range and overall coverage. Finally, ROG's exclusive Tri-Level Game Acceleration delivers a fantastic gaming experience.
ROG Raikiri Pro PC Controller: Unlimited Customization :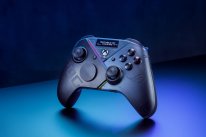 The first Xbox-certified tri-mode PC controller, ROG Raikiri Pro offers gamers the choice of connecting via Bluetooth, 2.4GHz RF or wired USB, making it perfect for gaming on next-generation PCs, laptops and Xbox consoles. ROG Raikiri Pro puts all the controls and customization options gamers need into their own hands. Players can customize their Raikiri Pro with images, text or animations on the built-in OLED display. They can also be used to display charging status, microphone volume, and profile indicators. Two buttons on the top of the Raikiri Pro allow users to switch between profiles mid-game. Additionally, the four rear left and right buttons can be programmed as hotkeys for in-game commands or to adjust joystick sensitivity. Gamers can even adjust vibration, dead zones, and other settings through the Armory Crate app on Windows. In addition, physical trigger locks allow players to adjust the maximum activation distance of the left and right triggers. Finally, the controller incorporates an ESS DAC for immersive sound, as well as a 3.5mm headphone jack and a mute button.
ROG Destrier Ergo gaming chair: Ergonomic and designed for all scenarios :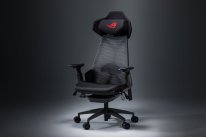 The ROG Destrier Ergo gaming chair is an all-new wraparound enclosure that takes on the futuristic aesthetic of a cyborg and offers exceptional levels of adjustability to ensure maximum comfort during gaming sessions. Made from a rigid aluminum frame, breathable mesh and comfortable PU foam, it offers exceptional support and comfort. It features luxurious PU armrests with head and lumbar support, plus a special lift mode for mobile gaming. There's even a removable acoustic panel that shields players from distractions.
ROG G22CH: Uncompromising firepower in a compact chassis :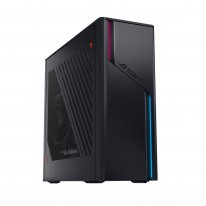 ROG Strix G22CH offers a compact design of only 10 liters, which allows incredible component compatibility without increasing its footprint. This airflow-optimized structure can support air or liquid cooling, both options fit easily into its compact chassis. Thanks to the incredible power of the 13th Gen Intel Core i9 processor and the latest NVIDIA GeForce RTX GPU, users can confidently play games and stream at the same time. Thanks to the tool-free intuitive design, maintaining and upgrading all major PC components is easy despite its small size. Powerful software includes: RGB Aura Sync synchronization, Two-way AI noise cancellation microphone with ambient noise cancellation and immersive Dolby Atmos sound.