Will Ryzen Mobile 7040 be the mainstream laptop processors of 2023?
Between the new Zen 4 CPU architecture, the arrival of the new RDNA 3 GPU architecture, the introduction of the first AI coprocessor, and 4nm etching, AMD has gone technologically "all in" as in poker. With the desire to launch the ultimate chip for personal computers that combines high power (the chip spreads between 35 and 54W), but is very thin and light.
AMD today introduces a new batch of processors for portable computers. A family of chips with several ranges ranging from 15W to 54W, one of which stands out: the Ryzen 7040. Let's get rid of some confusion about the naming of the different ranges right away. AMD had the bright idea to entrust the naming of new chips to a zealous engineer rather than a marketing specialist (no). Marketing may be "bad" for you, but there is "good" marketing. And this allows, for example, to name products correctly to easily recognize them.
And this is where AMD's very sensible naming misses its mark. Because according to the ranges, AMD has mixed carving technologies, CPU and GPU generations, etc. Putting all this under the umbrella name "Ryzen 7000". A number of chips stand out in this mess: the Ryzen 7040 (codenamed Phoenix). For good and simple reason, it represents technological all-in.
4nm engraving and all modern technologies
Using TSMC's expertise in mass-producing chips for smartphones, AMD was able to use the 4nm etching process. If that doesn't speak to you, here's the scoop: for the first time in years, computer chips are being etched as thin as chips for smartphones!
AMD also affords the luxury here of staying ahead of Apple, which remains at 5nm for the M2. The evolution of the 5 nm process offers a small additional density of the 4 nm etching logic part (transistors dedicated to calculations), but also a reduction in power consumption at a frequency equal to 5 nm. Competing with the Ryzen 7040, Intel can only match chips etched in Intel 7 (super 10 nm). AMD may therefore have a huge advantage in the most compact designs.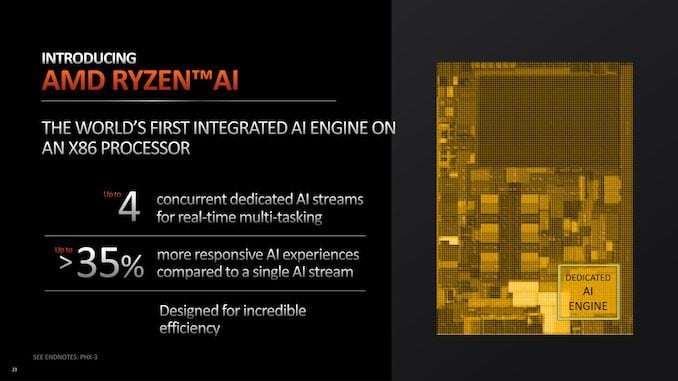 This is more so because America, as we say, has massively deployed all its latest technologies. And "all" is no exaggeration here. The CPU is for the first time on the Zen 4 architecture, the integrated GPU (iGPU) stamped Radeon 780M is built on the all-new RDNA3 graphics architecture that powers the latest RX7000. And above all, AMD introduces its first artificial intelligence processor, Ryzen AI – again, as in smartphones. This block of the chip is based on the XDNA technology developed by Xilinx (acquired by AMD between 2021 and 2022) and can handle up to four artificial intelligence tasks simultaneously. Our colleagues at AnandTech also heard from AMD that they will have an AI chip. Up to 20% more efficient than Apple which is clearly to be proved.
Read also : Intel Unveils 13th Gen Core in Notebooks: Everything You Need to Know (Jan 2023)
Even without getting the first three chips, we can expect an increase in performance at all levels and lower consumption at the same load. But by design, these all-in-one processors will be integrated into custom chassis. No, not (yet) on ultraportables…
The goal: "thin and light" high-performance computers
As the laptop market and formats are so diverse, it's important to narrow down the machines AMD is targeting with its new super processor. With a core heat dissipation range of between 35 and 54W, these are not classic "office" high-end ultraportables, but more often around 15-28W. According to AMD, the Ryzen 7040 chips are aimed at "thin and light" designs, meaning machines that offer high performance in the thinnest chassis possible. While their iGPUs can handle all games on their own in better conditions than the previous generation, the reality is that frameworks with 35-50W CPUs are generally accompanied by dedicated GPUs.
Also read: Why AMD's Ryzen 6800U Is (Slightly) The World's Best CPU (Nov 2022)
Depending on the performance boost of the RDNA3 architecture, we could see machines like the Dell XPS15 delivered with this single chip. In any case, the 12 RDNA3 cores, which promise to be up to 50% more efficient than the RDNA2 cores of the Ryzen 6000 Mobile range, will be able to run all the slightly demanding graphics applications. While only "HS" chips between 35 and 54W are being announced for now, the good news is that AMD should introduce "U" versions of these processors later this year. Chips that are the most advanced in terms of technology (Zen 4, RDNA 3, 4 nm engraving), but the TDP should be between 15-25W. The successor to the excellent Ryzen 6800U should once again benefit from a real jump in graphics performance, this time in ultra-portable formats.
The first laptops equipped with AMD Ryzen 7040 chips should go on sale early next spring.