Samsung unveiled 4 monitors at CES 2023, and they are monstrous
At CES 2023, Samsung presents a new line of displays. At least we can say that the manufacturer puts small containers in large containers.
As CES 2023 prepares to open its doors, screens and monitors are everywhere. Samsung is no exception to this rule and is coming to Nevada with new models and something for everyone. The Odyssey, ViewFinity and SmartMonitor ranges are in the spotlight to tempt gamers and professionals.
Odyssey Neo G9: 57-inch curved gaming monitor
You probably remember the Odyssey Ark, the impressive 55-inch display we got up close at IFA 2022. Samsung once again decided to impress with Odyssey Neo G9, the world's first monitor equipped with a "double" ultra-motor. high accuracy.
During the presentation of the RDNA3 graphics cards, AMD mentioned the arrival of a new "8K" display. As we suspected, the Samsung Odyssey Neo G9 isn't really an 8K monitor, as it offers a resolution of 7680 x 2160 pixels; this is already impressive. To use the formula used by AMD, we are in the presence of a panel that only offers 8K definition on the horizontal axis.
At Samsung, we're talking more about a "dual UHD" gaming monitor to classify this 57-inch monster. The Odyssey Neo G9 uses a curved panel (1000R) and displays an aspect ratio of 32:9. An ultra-wide screen that uses mini-LED technology to offer high contrast and deep blacks. Note that this is a matte screen that limits annoying reflections.
The monitor is compatible with DisplayPort 2.1; Transferring data almost twice as fast as DisplayPort 1.4. We don't know the price or availability, so impressive specs for the monitor. There's no doubt that the price may turn many gamers off.
Odyssey OLED G9: 49 inches in OLED for gamers
Still in the gaming world, Samsung also introduces the Odyssey OLED G9 (G95SC). This "smaller" cousin of the Neo G9 therefore takes its place in the popular Odyssey series with more modest features. We're still on a 49-inch monitor that uses quantum dot OLED technology for "pixel by pixel" control. OLED provides almost infinite contrast, and Samsung promises "brighter whites" and "deeper blacks."
The OLED G9 displays a resolution of 5120 x 1440 pixels, which is equivalent to two QHD monitors (2560 x 1440 pixels) side by side. Samsung mentions a 240Hz refresh rate and a 0.1ms response time, two elements that should convince gamers.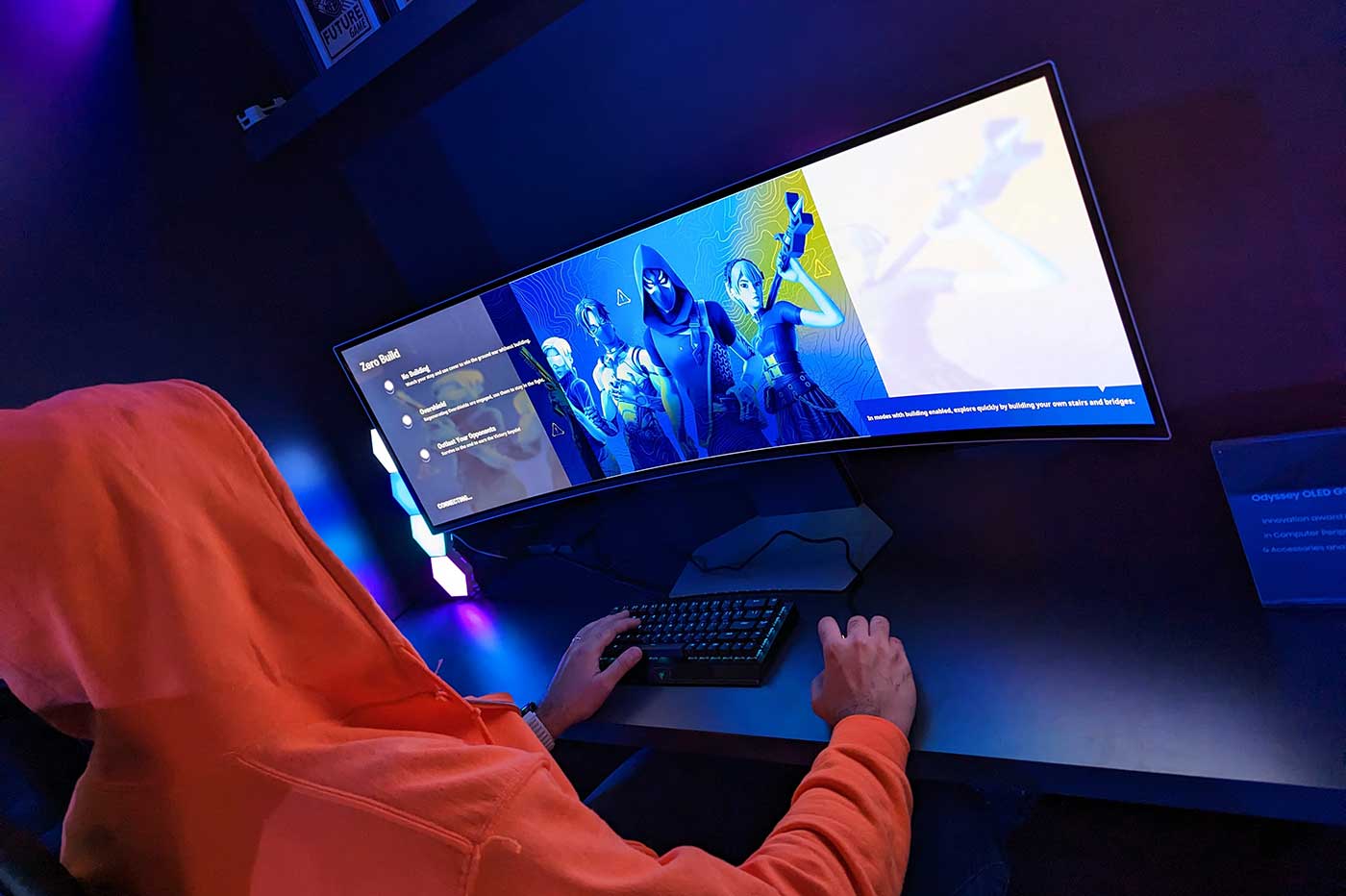 The screen is also designed for multimedia use by connecting partner programs such as Prime Video, Netflix or YouTube. Everything is controlled from the Smart Hub, which allows you to access these services using an Internet connection and without a computer. With the Samsung Gaming Hub, you can also access cloud gaming platforms such as Microsoft's Xbox Game Pass or NVIDIA GeForce Now.
Its price and release date are not yet known.
ViewFinity S9: Studio Display with Samsung sauce
In addition to screens for gamers, the South Korean giant is thinking of creative professionals. The ViewFinity S9 looks a bit like Samsung's Apple Studio Display, as evidenced by its specs. This 5K monitor has a 27-inch diagonal with a 16:9 ratio for a resolution of 5120 x 2880 pixels. Its panel covers 99% of the DCI-P3 color space, and Samsung promises factory calibration. The delta E value is no more than 2 to ensure accurate color representation.
The display also incorporates an app-linked calibration system called Smart Calibration. A matte display should limit light reflection and glare.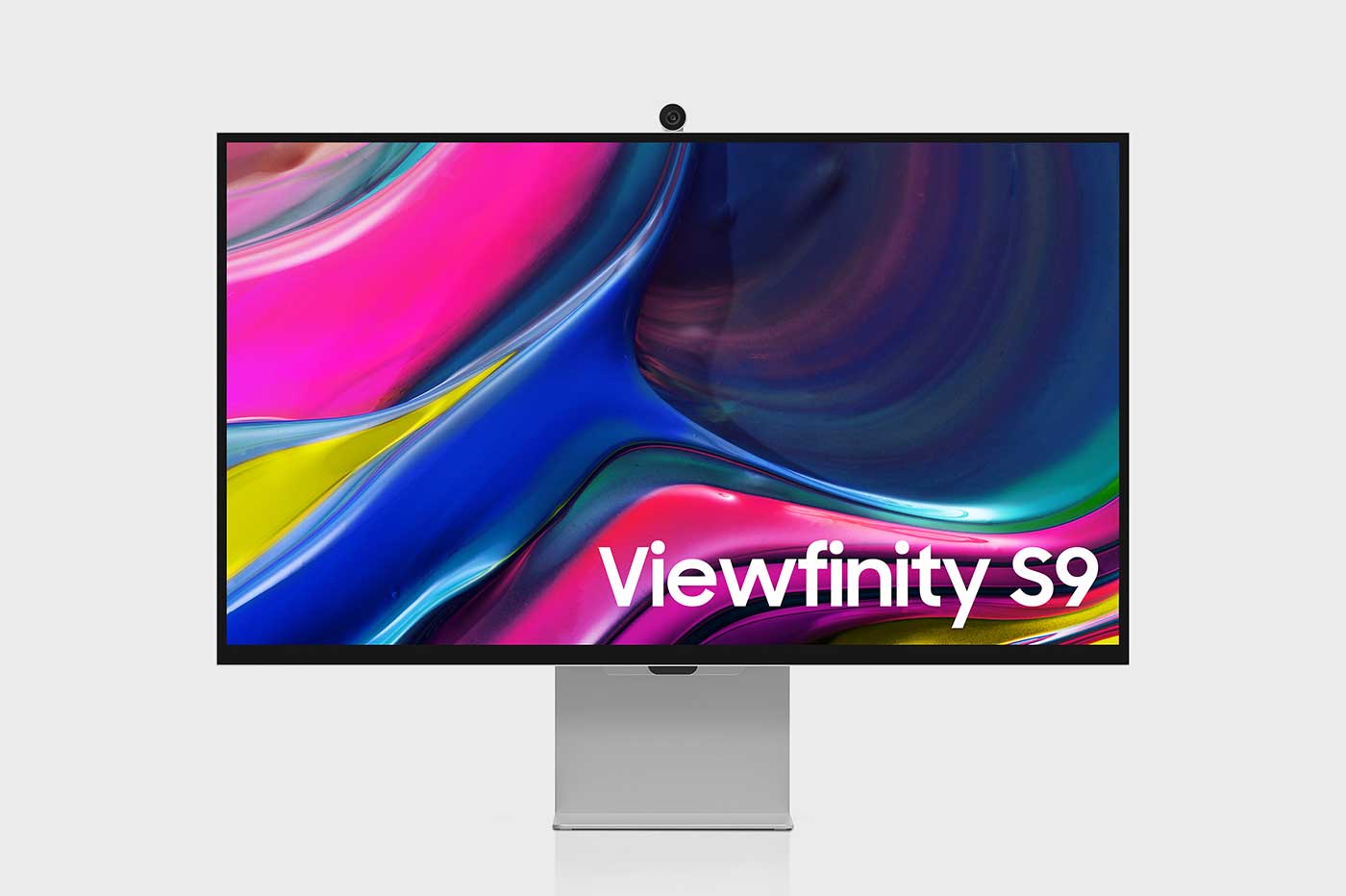 The ViewFinity S9 (S90PC) has several video inputs (USB-C, Thunderbolt 4, DisplayPort, HDMI) and has a SlimFit 4K camera. It supports video conferencing tools such as Google Meet, which are directly integrated into the Smart Hub. Like other brand monitors, it can work without a computer for basic tasks. Finally, it is possible to rotate the tile to alternate between horizontal and vertical display.
The South Korean manufacturer has yet to mention the price or release date of its display. This often happens during CES, and the features indicate that it will have to pay a significant price.
Smart Monitor M8: now in 27 inches
Finally, Samsung adds the new Smart Monitor M8 (M80C) to its collection. We already knew the 32-inch model, the firm offers it a 27-inch younger brother in 4K resolution. With a design inspired by the latest iMacs, the versatile display incorporates most of the features of its predecessor. It comes in four colors: blue, green, pink and white.
It has a height-adjustable stand and can now rotate 90 degrees. The integrated SlimFit camera offers 2K resolution and runs on Samsung's own ecosystem. There is SmartThings and Smart Hub integration to access services (Netflix, YouTube, Prime Video, etc.) and cloud gaming platforms from the monitor. The My Content feature also offers to display images from the smartphone when the screen goes into sleep mode.
Now we are waiting to know the price and availability of this 27 inch Smart Monitor M8. Recall that the 32-inch model was put on sale last year, the initial price is 799 euros.