New products for January 2023
New products for January 2023
Fresh products
Charal – Original pure beef for cooking
Charal offers authentic pure beef for cooking. 100% VBF beef (French beef) is knife-thin and easy to cook. 250 g, €5.80
Grandeur Nature – Blue lemon flavor with organic sheep's milk
The loyal brand Grandeur Nature now offers a new Lemon-flavored Skyr, rich in protein, low in fat and naturally sweetened thanks to sheep's milk. 2 x 120g, €3.53 – in specialist organic chains
Sodebo – Pizza Crust
Sodebo presents a new recipe for pizza crust. Contains no preservatives, spicy chicken, fried onions, mint and white sauce. 580 g, €5.29
Etic Organic Garden – Germany
Made in France, these nemes can be cooked in the oven or pan and are available in 3 recipes: vegetable, chicken or vegetarian with mint to accompany the soy sauce. From €4.50 to €4.78 depending on the recipe Box of 4 Spring Rolls – Soy Sauce, 125ml, €2.49
Crealin – food soups and legumes
Créaline offers a new Thai cooking soup with vegetables, rice vermicelli, curry, coconut milk and lemongrass and enjoy with a crunchy peanut topping. The brand has also been enriched with a new range of baked French beans available in 2 recipes: carrots and spicy lentils and white beans with tomatoes, peppers and garlic. Soup, 365g, €3.50 – Cooked meals, 2x175g, €3.30
Invitation to the Farm – Le P'tit Gris Bio local
The local P'tit Gris is a raw milk cheese, with a rind blossomed with an uncooked pressed paste, matured for 5 weeks. A real local farm cheese with a light and sweet taste. €21.98/kg – Local sale within a maximum distance of 80 km from the farms that produce it
Cancalaise – Gratins
La Cancalaise presents a new range of Breton savory gratins presented in 3 recipes: mussel marinière and hash brown gratin, mussel gratin with vegetables and sea-grown trout and leek gratin. 480 g, €6.90
Asian traditions
The Asian cuisine expert brand improves its recipes for summer rolls and family meals. All dishes are made in France with 100% French meat, without flavor enhancers, colorings and preservatives. Nems x 4, €2.99 to €3.15 depending on the recipe – Ready meals, 400g, €3.79
Madrange – My Knacks Balls
Madrange is re-launching one of its snack staples, mini Balls sausages, offering a delicious option to reheat in its own pot, microwave, and 100% pure French bacon. 200 g, €2.59
---
Salty food products
Poline – Vegetable jam
Poline, the first organic vegetable jam brand made in France, makes delicious concoctions that combine seasonal vegetables, sugar for preservation and spices to awaken the flavors. These delicious jams can be spread, accompany meat and fish or enhance classic vinaigrettes and sauces. 160g pot, from €6.50 – available online
Closed – Smoked Cod Liver -50% salt
Less salty and delicately smoked, Connétable cod liver comes from MSC cod fish caught off the coast of Ireland. Smoked raw over beech wood, it is simply boxed and then sterilized without any added oil. 121 g, €1.99
Terre Exotique – Timur gravlax blend
Lemony, tangy and herbaceous, the new gravlax blend is used for all fish-based preparations. Ideal for making easy gravlax salmon, it also enhances marinades, fresh cheeses, aperitif sauces, soup stocks and even lamb. 60g jar, €6.20 – In delicatessens and online
Auvernou – Comté and Hazelnut Mini Bars
Auvernou offers new flavors for these mini bars made with 100% French pork, Comté AOP aged for at least 10 months and roasted hazelnuts. 100 gram bag, €2.85
Mutti – Zero Pesticide Residue Peeled Tomato
Mutti introduces the first ZRP (Zero Pesticide Residue) peeled tomatoes to the market. 100% Italian, naturally juicy and firm. Softly peeled, then dipped in a velvety tomato coli (Passata Mutti) rich in flavors, it holds up well when cooked and can be used as a filling for tomato pie. 2 x 400g, €2.40
Saint Lucia – Garlic pepper
Ideal for grilled meats, garlic peppers can also be used in baked goods such as pan-fried beans, tomato paste or rice pilaf. It can also enhance the spiciness of the salad. 55 g bottle, € 2.49
Emil Noel – New product
Made from olives just picked in November, New Harvest oil comes from the first harvest of the new season. This gives it original aromas and an incomparable fruity taste. It is rich in unsaturated fatty acids, rich in polyphenols and naturally contains omega 9. 75 cl bottle, €9.25 – in organic stores
---
Sweet foods
Very Good – Brownie
With 30% less sugar and fat, this new guilt-free brownie recipe uses cane sugar to replace eggs, low-sugar chicory fiber chocolate and a new seaweed-based ingredient. The recipe is presented in two versions: chocolate chips or hazelnuts. 285g, €3.99 – at Monoprix
Baba – Cane Sugar
Daddy makes a variety of cane sugar in several flavors and textures to satisfy all recipes: Brown Sugar with small crunchy grains and notes of honey, Panela with a moist and melting texture and caramelized taste and Dark Demerara with a very large very crunchy grain almost vanilla caramel taste with aromas. From 500g to 600g, €2.20 to €3.50 depending on sugar
Saint Lucia – Preparation kit for Frangipan
Perfect for novice pastry chefs, the Frangipane Prep Kit contains all the ingredients you need to make delicious frangipane quickly and easily, as well as beans and a crown. Epiphany Kit, €2.99
Belledonne – Spread
Belledonne offers the 1st chocolate spray in a vegetable container, which was born from the revaluation of sugarcane residue. Very creamy, these spreads are available with almonds or hazelnuts. 300g jar, €6.20 for hazelnut chocolate and €6.95 for dark chocolate with almonds. In organic stores and online
Chabert & Guillot x aix&terra – Nougat and chocolate cream
This spread is original with its double texture, creamy and crunchy: crushed nougat and cream are added to Valrhona chocolate slowly melted in an open pot. Naturally, without palm oil, this high-quality crème pogne can be spread over pancakes or desserts. 220g jar, €12 – Available online
Angelus – Wholemeal Breads
L'Angélus offers new wholemeal breads with no added sugar, made from French whole wheat flour. Ready to decorate, they are vegan and Nutriscore A. 2 loaves, €2.10 – In organic stores
Mapple Joe – Making Pancake Batter
Add milk directly to a bottle of Mapple Joe to get enough product to make ultra-fluffy pancakes without preservatives, coloring or artificial flavors. 215g bottle, €2.49
---
Drinks
Brasserie d'Achouffe – Non-Alcoholic Chouffe
For its 40th anniversary, Brasserie d'Achouffe offers a non-alcoholic (or almost 0.4%) Chouffe. Refreshing and thirst-quenching, the fruity aroma and grainy flavor characteristic of Chouffe beers lingers in sweet bitterness to deliver a unique taste experience. 4 x 33cl, €6.60
Vittel – Davy Tissot Limited Edition
Chef Davy Tissot, Meilleur Ouvrier de France and Bocuse d'Or 2021 winner, naturally joins forces with Vittel®, a partner of restaurateurs and authentic cuisine since 1854. This limited edition pays homage to the chef's signature dishes. Glass bottle, available in 3 sizes: 1L, 75cl and 50cl.
Kusmi Tea – Winter Delight
This new organic cacao infusion is rooibos flavored with a blend of cinnamon and ginger spices and a delicious Christmas hot chocolate flavor. 100g box, €15.90 – Available in stores and online
Lactel – Organic and Prepared Milk
For 30 years, Lactel has been improving glass to make it more virtuous. After emptying, the traditional Lactel bottle is recycled with other plastic packaging, but cannot be returned if it comes into contact with a food product after recycling. The brand now offers a bottle incorporating 30% recycled plastic (R-PEHD) certified ISCC, which will soon allow used Lactel UHT milk bottles to be recycled into new milk bottles.
2 Marmots – Boost and Me
Infusion energizes with Boost and Me. This fragrant and delicious hibiscus herbal tea blends lemon balm, ginger and guarana to combat fatigue. Box of 30 packets, €5.25
---
Frozen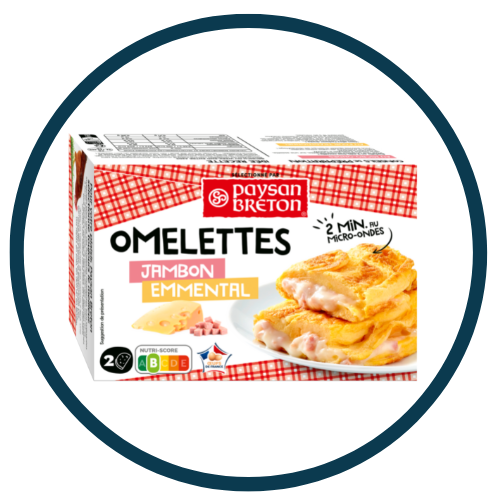 Findus – Green Kitchen
Findus completes its vegetable range with a new ocean-flavored bar with a soft heart of rice and wheat, reminiscent of fish and covered in a crispy breadcrumb crust. Box of 12, 336g, €2.90
Paysan Breton – Omelettes
Paysan Breton offers a new range of 3 individual omelettes made with eggs from free-range French hens. Rated B on Nutriscore, they are generously garnished with Emmental ham, Provence-style and creamed spinach and reheated in the microwave for 2 minutes. 2 x 135 g
---
On the side of signs
Picard
Chicken Yassa, Dragon Roll, Mafé with chicken, Onigiri with Teriyaki vegetables, Bao Burger Katsu… Picard takes our taste buds on a trip to Japan and Africa.
Lidl
Celebrating Epiphany at Lidl can bring some wonderful surprises. 30 €1,000 checks in the shape of winning beans are hidden in galettes des Rois with ground-baked frangipane. Until January 15, 2023.
Biocoop
Biocoop is committed to French origin with 83% of Biocoop products containing at least 80% of ingredients from France and 90% of fruit and vegetables produced in France.
Auchan
Auchan celebrates Epiphany with 6 different galette recipes (Frangipane Premium, mini galettes filled with spread, chocolate pear galette, hazelnut lemon galette, frangipane galette and pistachio morello cherry galette) and a range of cider and sparkling apple cider.
Crossroads
Concerned to meet the growing expectations of consumers of French origin, Carrefour presents 100% French products accessible to all to support French agriculture.
Clear Life
La Vie Claire takes the taste buds on a journey with its Italian-inspired and French-made aperitif bites. Two recipes are available: Pepper and mozzarella and Spinach and ricotta.
Cover image © Poline
New products for January 2023 can be found in supermarkets and hypermarkets, local stores, organic stores, specialty stores and online. Prices are for information only.
ALCOHOL ABUSE IS DANGEROUS TO YOUR HEALTH, CONSUME WITH SPARENESS.