Tartlets with apple balls
The days are getting shorter, the evenings are getting cooler…and summer is almost over. To hell with the dropping temperatures, the important thing is to keep the sun in your heart, especially on your plate! To help you out, this week we bring you the most beautiful pearl necklace apple cakes. Vitamin-rich, sweet and delicious, these bring a good dose of fragrance that will have you facing those back-to-school blues.
Ingredients (for 4 tartlets)
– Short pastry (do you want to try the home recipe? For this, add 250 g of flour to 150 g of butter. You get a sandy mixture, add 40 g of powdered sugar to it. Put everything in a salad bowl with yolks. eggs, a pinch of salt and a dash of cold water, then stir… and you're done!)
— 3 apples (for local, we bet you get a good one from Pretemer Haff farm, available in their store!);
– 2 unpeeled lemons;
– 90 g of powdered sugar;
– 50 g of corn starch;
– 50 g of milk;
— 3 egg yolks (those from the Bio-Ovo network, a community of organic egg producers in the Grand Duchy of Luxembourg and the Grand Region);
– a teaspoon of vanilla extract;
– 10 g of water.
A melon baller will come in handy for making apple balls for this recipe.
Preparation of pastry cream
In a saucepan, over low heat, heat the milk accompanied by the lemon peel.
Put egg yolks, 80 g of sugar and vanilla extract in a bowl. Mix using a whisk. Add cornstarch. You will get a very thick cream.
Pour the hot milk (pre-filtered to remove the lemon zest) over the cream in three stages and mix.
Pour the preparation into another pot and heat it over low heat, stirring constantly. Mix until it thickens. Stir the mixture for two minutes, then remove from heat. Leave to cool, then film on the contact so that an unpleasant film does not form. Put the preparation in the refrigerator for at least an hour.
Preparation of dough and apple balls
Preheat the oven to 180°C.
In tartlet molds, put the pastry dough covered with baking paper and prick it with a fork.
Peel the apples and use your melon picker to create thirty regular balls. Put them in a bowl and pour 10 g of water, lemon juice and 10 g of powdered sugar. Stir to coat the beads evenly.
Put the apple balls and their juice in a baking dish. Cover the pan with aluminum foil so that the balls do not dry out too much and remain soft during cooking.
Bake the pastry dough and apple balls for 30 minutes. Stir the balls regularly so that they cook evenly and are juicy. When the dough is golden brown and the balls are soft, you can stop cooking. Leave everything to cool.
Dressage
After the three preparations (dough, cream and apple balls) have cooled, the dressing can begin.
Lightly loosen your pastry cream with a whisk, mix gently. Add lemon juice at this step.
Then you can cover the pastry with the pastry cream – we want a thick layer, we're being generous! For an aesthetic result, smooth the preparation or use a piping bag.
Place the apple balls evenly on the surfaces of the cream.
Refrigerate your cakes for at least two hours before serving.

(Photo: Lisa Cacciatore/Modern House)

1/2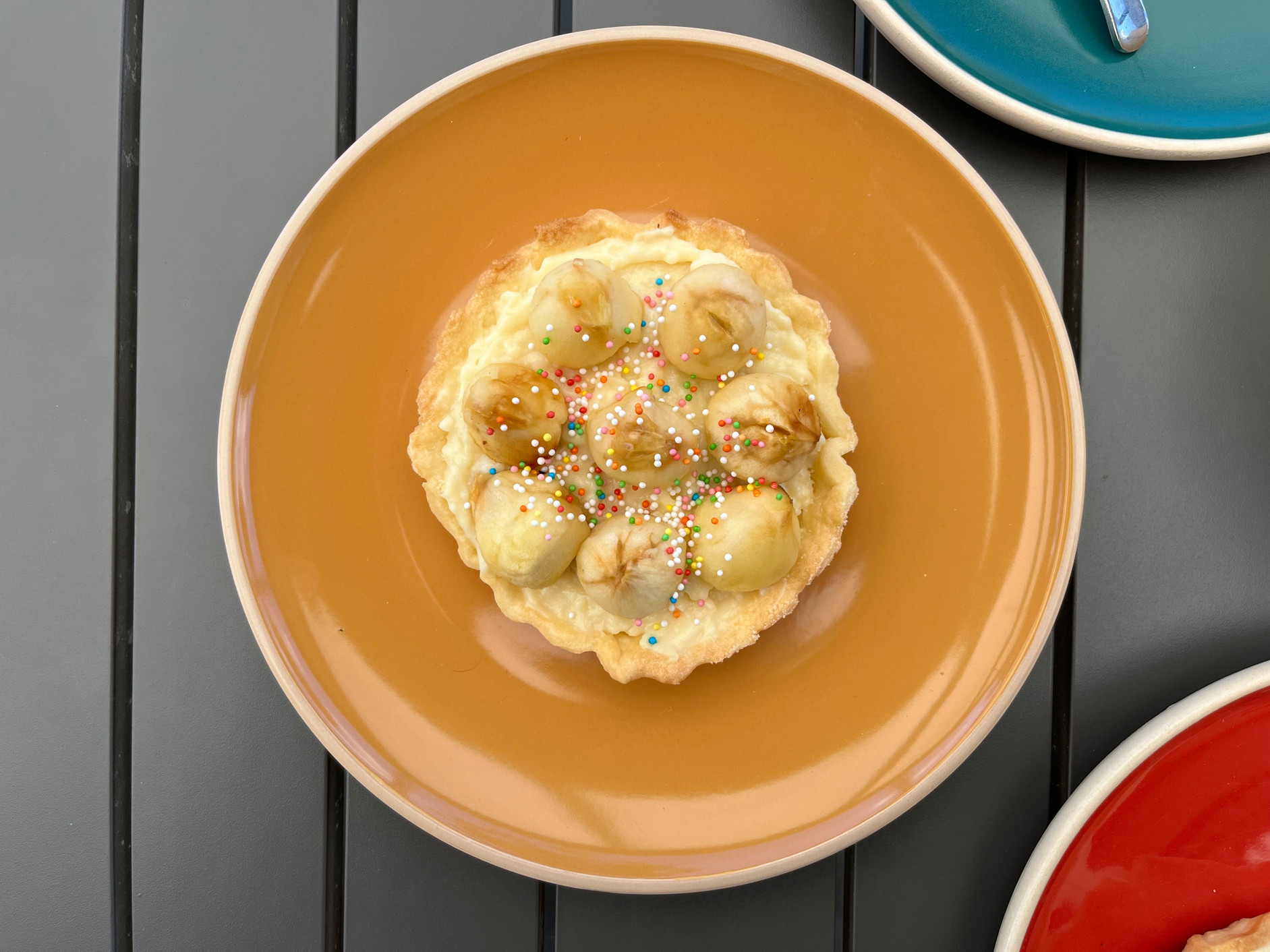 Colored marbles, lemon zest, chocolate chips… there are 1001 ways to decorate your tartlets!

(Photo: Lisa Cacciatore/Modern House)

2 / 2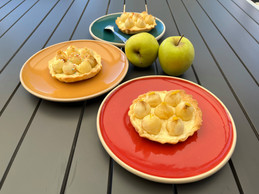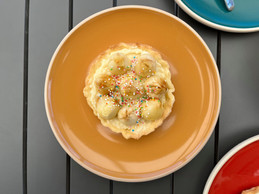 Sprinkle the tartlets with lemon zest or colored marbles, then refrigerate for at least two hours before serving.
Next week, it's rabbit and mustard for our final summer recipe.