In Hanoi, pho restaurants with cracking names
>>The pho Vietnamese are the focus of Google Doodle
>>The pho it is among the most delicious and healthy foods in the world
+pho+, the national dish of Vietnam.

Photo: TD/CVN
Pay attention to the name of the place you are visiting. Because they are all the same… in appearance. Inevitably, it is called pho Something and often pho bo gà.
In marketing, the Vietnamese directly: phomeans soup bo means beef and go means chicken. That's why they open a soup restaurant called Chicken Soup. which is everywhere, pho nevertheless, it proves to be a constant inspiration year after year. Therefore, it is not surprising to see more and more restaurants with exotic, unusual and exciting names.
From Pho Thât (right) through Pho Suong (pleasure) to Pho Vui (joy), there is no shortage of bosses and bosses who have something to prove and express.
Coincidentally, but what a happy coincidence for Vu Thi Thuân to run Pho Vui restaurant, he enjoyed inheriting his father's profession, named Vui.
Thus, a famous knowledge and know-how is preserved in his family. Add to that a rich menu and you realize that you are not dealing with any important restaurant pho.
"Filette, I have already helped my parents with their work, first on Hàng Cot street, then on Lo Su and Luong Van Can streets. I am over 50 years old this year and now we are settled here on Hàng Giày Street", shared with Vu Thi Thuân, owner of Pho Vui restaurant, 25, Rue Hàng Giây.
MI Thuan has the right recipe to make you salivate: pho bo tai with half-cooked beef, pho bo chin cooked beef, stupid wang beef in wine pho gau and pho nam. "name"kidney meat means tender, more lean meat"gau"beef leg to brisket is fattier than beef"name".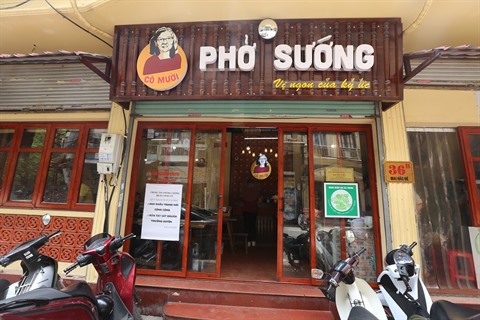 Pho Suong Restaurant.

Photo: TN/CVN
The soul of soup pho found in the traditional clear, elegant, richly flavored draft. to do pho you have to work hard on the infusion of tasty and authentic beef bones. We add it to give a miracle of taste sipunculidae (sea worms) dried. Their use was the secret of former chefs in Nam Dinh, 90 km southeast of Hanoi.
"Mr. Vui was from Nam Dinh. I work permanently in his restaurant. When he died of old age, he passed the torch to his children". A tradition passed down from father to son in a way. In fact, it's the very clear broth flavored with ginger and garlic that makes the difference. A very special taste.", said Nguyên Huu Minh, visitor, Hoàn Kiem Street, Hanoi.
While preparing the soup, we dip the pancakes cut into thin strips into boiling water, so the Pho Suong pancakes remain very flexible and do not boil. Meats are served separately or mixed according to the customer's request. In terms of spices, guests mainly decorate pho onion and lemon.
"It used to be called Pho Suong Pho Thang Loi, victory, and was run by my parents. Since 1986, my brother has reopened the restaurant as Pho Suong, happily. Because the guests literally fell in love with these soups", said Lê Thi Muoi, owner of Pho Suong restaurant on Mai Hac Dê Street.
Star Anise, Coriander Seed, Clove, Roasted Ginger, Roasted Onion, Cinnamon Stick, Black Cardamom, Fructus Amomi aromatici thao qua, well-chosen pieces of meat delicately placed on top of well-cut, carefully prepared rice noodles… there is a whole art of delicacy and harmony. Each restaurant has its own spices and little personal touches.
"The origin of the name of our restaurant goes back to my father's time. As the name suggests, Pho Thât means that everything served here is clean, tasty and authentic.", explained Luong Phuong Loan, owner of Pho Thât restaurant.
No one knows exactly when the soup is pho Since the 1940s, this dish has become well-known in Hanoi. It can be eaten at any time of the day, as an appetizer for breakfast and dinner, without any food or drink.
Simple and elegant, pho Becoming a universal soup, Legenary has something to please both locals and Western palates, a must for delicious parties. Where the Vietnamese table has its place pho. This culinary wonder has its own history, National Food Day. phoDecember 12.